Women's basketball topped by No. 4 Tufts in season finale
---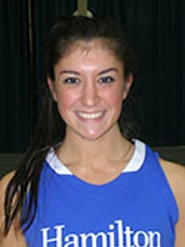 Tufts University's Hannah Foley dropped in 13 points and grabbed a game-high nine rebounds as the nationally ranked No. 4 Jumbos pulled away late for a 57-37 NESCAC victory over Hamilton College at Tufts' Cousens Gym on Feb. 13.

The Jumbos (23-1 overall, 9-1 NESCAC) wrapped up the regular season with an unblemished 10-0 record at home. Tufts ended up in a three-way tie for first place in the NESCAC with Amherst College and Williams College, but after tiebreakers, earned the No. 1 seed in the NESCAC championship, which begins on Saturday, Feb. 16.

Tufts entered the night ranked second in scoring defense in Division III, allowing an average of just 43 points per game. The Jumbos have won the last six meetings with Hamilton, including a 46-38 victory at the Skidmore College Invitational on Nov. 17.

Liz Moynihan was 3 of 6 from beyond the arc and tied Foley with 13 points for Tufts. Hayley Kanner added nine points and seven rebounds, and matched a season high with six blocked shots. Kate Barnosky contributed four assists and three steals.

The Continentals (12-11, 3-7) were led by Samantha Graber '16 with 12 points and three steals. Eliza Howe '13 dropped in 11 points and Kim Goidell '13 grabbed a team-high six boards.

Madie Harlem '13 passed out six assists and scored six points for Hamilton. Harlem finished her career in seventh place on the team's all-time list with 1,131 points. She is also fourth in assists (251), third in steals (202) and fifth in 3-pointers made (114).

Tufts raced out to an 8-1 lead with five points from Kanner. The Continentals pulled to within 13-9, but the Jumbos scored eight straight for a 21-9 cushion. Foley had four points during the spurt. Hamilton scored six points and held Tufts to just one basket during the final 4 minutes, 55 seconds of the first half. Graber made a pair of layups during that span as the Continentals closed to within 23-15 at the break.

The Jumbos began the second half with a 7-0 run that featured back-to-back 3-pointers by Moynihan and Barnosky for a 30-15 lead. Graber nailed a trifecta that cut Hamilton's deficit to 34-24. Following a free throw by Ali Rocchi, Graber hit another shot from long range and made a layup that pulled the Continentals within single digits at 35-29.

Foley's layup extended Tufts' lead to 37-29, but three consecutive Hamilton free throws made it 37-32. Back-to-back 3-pointers by Emma Roberson and Foley gave the Jumbos a 43-32 advantage, but the Continentals didn't go away.

Howe knocked down a 3-pointer and Harlem's two free throws closed the gap to 43-37 with 4:02 to play. But the Continentals were 0 of 3 from the floor and committed four turnovers in the final four minutes, and the Jumbos finished the game with a 14-0 run.

Tufts shot just 32.8 percent (19-58) from the field, but was an impressive 8 of 16 from beyond the arc. The Continentals were held to 24.5 percent (12-49) shooting, including 4 of 13 from 3-point range.

The Jumbos owned a 43-36 rebounding advantage, including 14-9 on the offensive glass, and turned the ball over just 12 times. Tufts is ranked second in Division III with 12.7 turnovers per game.