Women's basketball tripped up at Middlebury
---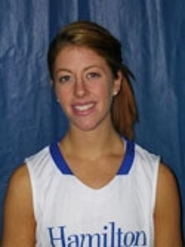 Middlebury College took an eight-point lead with an 11-0 run midway through the first half, and the Panthers didn't trail again en route to a 51-44 win against Hamilton College in a non-league game at Middlebury's Pepin Gym on Feb. 15.

The Panthers (15-8 overall) shot just 34 percent from the field, but scored 25 points off 24 Hamilton turnovers. Middlebury led 26-16 at the break, and its lead fluctuated between four and 12 points during the second half.

The Continentals (8-13) shot 43.5 percent from the floor and held a 32-31 edge in rebounds. Hamilton attempted just five free throws.

Maddie Moreau led the winners with 11 points and four assists. Sarah Marcus added a spark off the bench with 10 points and three steals. Tracy Borsinger chipped in eight points, and Stephany Surrette grabbed seven rebounds -- all on the defensive end.

Blue Sanders '13 paced the Continentals with a game-high 14 points. Sanders was 6 of 8 from the field, including 2 of 3 from 3-point range. Madie Harlem '13 posted nine points, seven rebounds and three steals. Lisa Olszewski '11 collected seven boards, four assists and two blocked shots.

Hamilton led 10-7 after a layup by Kim Goidell '13 with 12:15 left in the first half. The Panthers scored the next 11 points for an 18-10 advantage with 6:54 remaining. A 3-pointer by Marcus gave Middlebury the lead for good at 13-10. She added another one on the Panthers' next possession. Middlebury led 26-14 late in the half before a Sanders' layup cut the Continentals' deficit to 10 points at the half.

The Panthers held a comfortable 48-38 cushion with 2:38 left, but consecutive 3-pointers by Sanders pulled Hamilton within four points at 48-44 with 58 seconds remaining. However, a 3-point play by Middlebury's Lauren Sanchez with 25 seconds left clinched the victory for the Panthers.

The Continentals return home to face Vassar College in Liberty League action on Friday, Feb. 18.