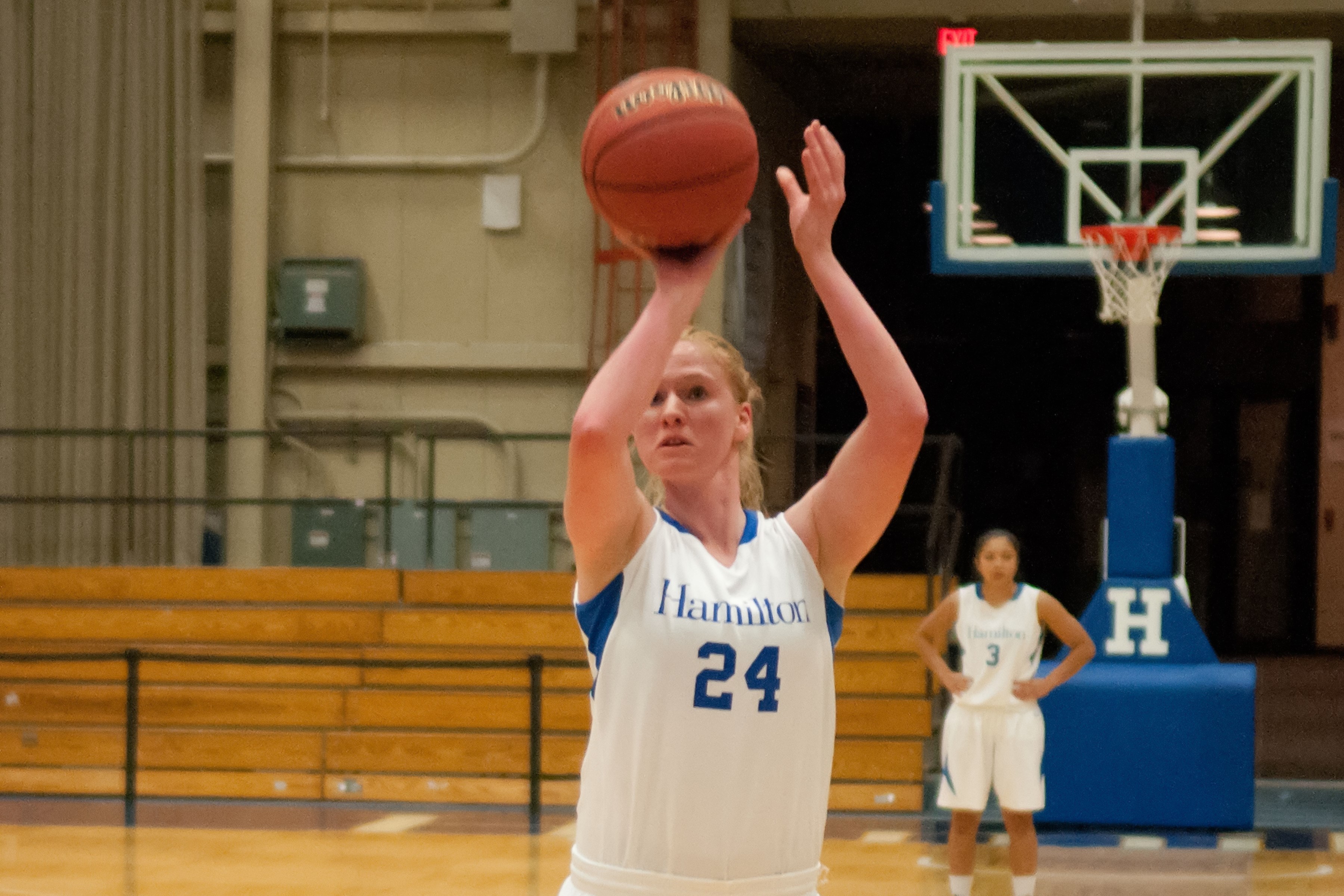 Williams College shot 50 percent in the second half and the nationally ranked No. 25 Ephs pulled away late for a 53-44 NESCAC win against the Hamilton College Continentals at Williams' Chandler Gym on Saturday afternoon.

Box Score

The Ephs (15-4, 3-2 NESCAC) blocked 10 shots and held Hamilton to 25.5 percent shooting. Williams owned a 40-37 edge in rebounds.

Ellen Cook led the Ephs with 12 points and three steals. Amanni Fernandez chipped in 11 points and six assists, and Katie Litman grabbed eight boards.

Lauren Getman '18 paced the Continentals (9-8, 1-4) with a season-high 16 points. Sam Graber '16 posted her ninth double-double this season with 13 points and 10 rebounds and added four assists. Graber is second in the NESCAC in scoring with 18.0 points per game and third with 9.8 rebounds per game. Adrianna Pulford '15 pulled down eight boards.

A layup by Hamilton's Samantha Srinivasan '18 tied the score for the fourth and last time at 35-35 with 12:32 left. Williams took control with a 13-2 run that put the Ephs up 48-37 with 2:54 remaining.

Oge Uwanaka started the spurt with a jumper, Lauren McCall followed with a basket and Kellie Macdonald made a layup. Caroline Barrett '17 made the second of two free throws and cut the Continentals' deficit to 41-36 with 8:00 to go.

Fernandez made a basket in the paint but Getman went 1-for-2 at the free-throw line to pull Hamilton within 43-37 with 7:21 left. Cook buried a 3-pointer and Macdonald capped the run with a layup.

Graber made two free throws, Theresa Salud '17 drained a shot from beyond the arc and Williams' lead was back down to six at 48-42 with 1:21 remaining. Salud's 3-pointer was the first field goal in more than 11 minutes for the Continentals. Hamilton didn't get any closer as the Ephs went 5-for-6 at the line in the final minute.

The Continentals jumped out to a 13-6 lead midway through the first half on eight points by Getman and five by Graber. Williams scored the next six points and neither team led by more than four after that until the Ephs' clinching run late in the second half. Williams held a 23-21 edge at the break.

Hamilton travels to Albany College of Pharmacy for the Continentals' final non-conference game this season on Wednesday, Jan. 28, at 7 p.m.