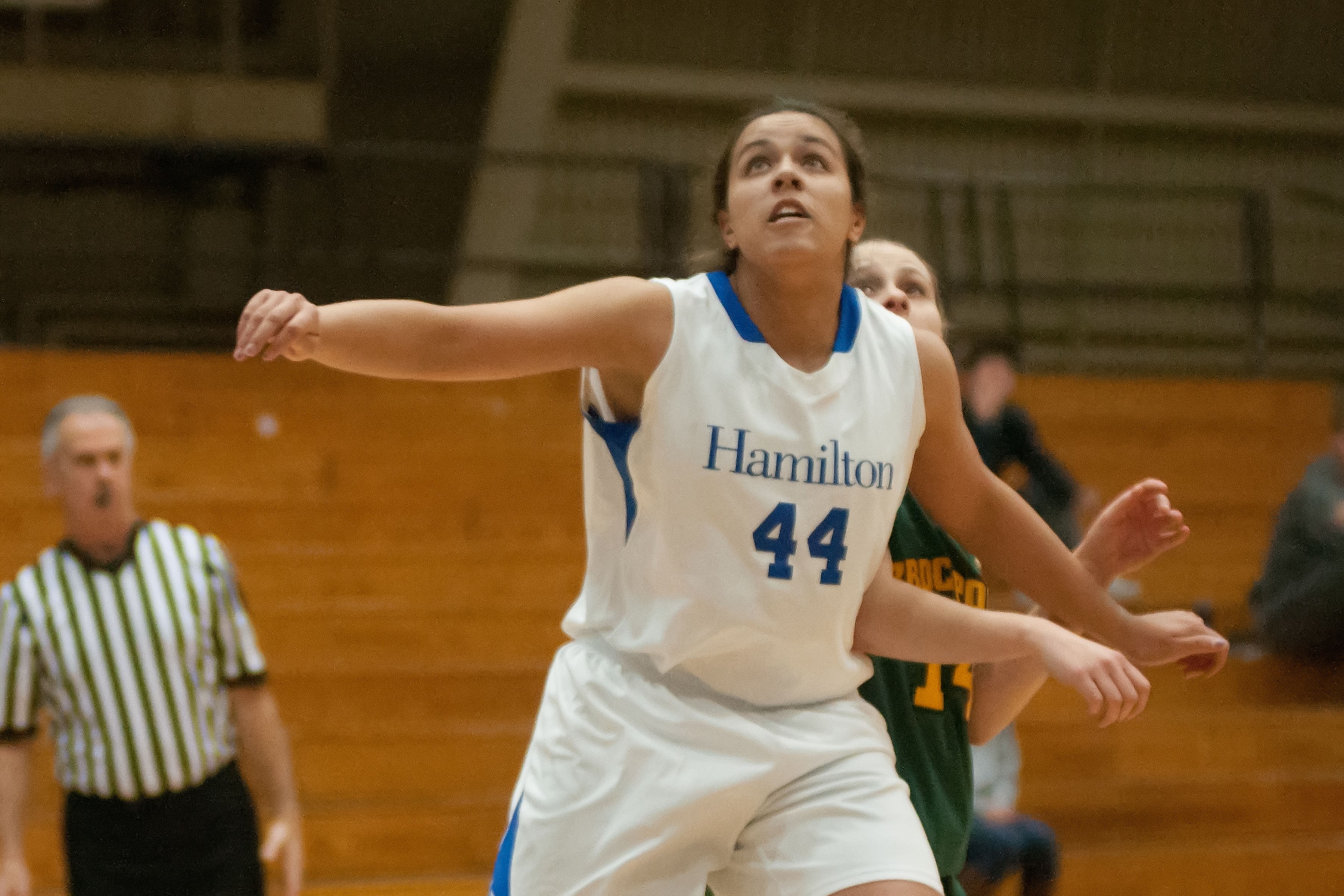 Nationally ranked No. 3 Amherst College jumped out to an 8-0 lead and the Lord Jeffs never trailed in a 68-44 NESCAC win against the Hamilton College Continentals at Amherst's LeFrak Gymnasium on Friday night.

Box Score

Ali Doswell led the Jeffs with 12 points, Hannah Hackley added 10 off the bench and Marley Giddins chipped in 10 points and five rebounds. Meredith Doswell dropped in nine points and Cheyenne Pritchard posted nine points and five boards off the bench.

Theresa Salud '17 drained three 3-pointers and finished with 11 points for Hamilton (0-1 NESCAC, 8-5). Samantha Srinivasan '18 contributed 11 points off the bench. Sam Graber '16 recorded six points and a game-high nine rebounds before fouling out with 8:47 left. Graber leads the NESCAC with 18.8 points per game.

Amherst (1-0, 12-0) jumped out to an eight-point lead as Doswell hit one from behind the arc, Giddins made a jumper and Hannah Peterson canned a 3-pointer. Hamilton was held scoreless for the first 4:53 until Lauren Getman '18 cut the Continentals' deficit to five with a trey of her own.

At the 11:09 mark of the first half, a layup by Jackie Nagle gave the home team a 16-6 lead. The Continentals responded with a 12-3 run that pulled them within four points. Following a layup by Srinivasan with 5:10 left in the half, the visitors trailed 22-18.

Amherst extended its lead late in the half and a pair of free throws by Jaimie Renner with 6 seconds left put the Jeffs ahead 33-23 entering the break.

Doswell hit a 3-pointer early in the second half to extend the Amherst lead to 13. Hamilton cut its deficit to 36-31 after trifectas by Salud and Graber and a layup by Caroline Barrett '17 with 18:05 remaining.

The run was short-lived as Amherst outscored Hamilton 13-1 during the next two minutes and extended its lead to 17 points at 49-32. The Jeffs led by double digits the rest of the way. Amherst shot 52.4 percent in the second half, including 5 of 6 from 3-point range. The Continentals shot just 25.5 percent from the floor for the night.

Hamilton travels to Trinity College for another NESCAC game on Saturday, Jan. 10, at 3 p.m.