Women's basketball wins at Skidmore Invitational
---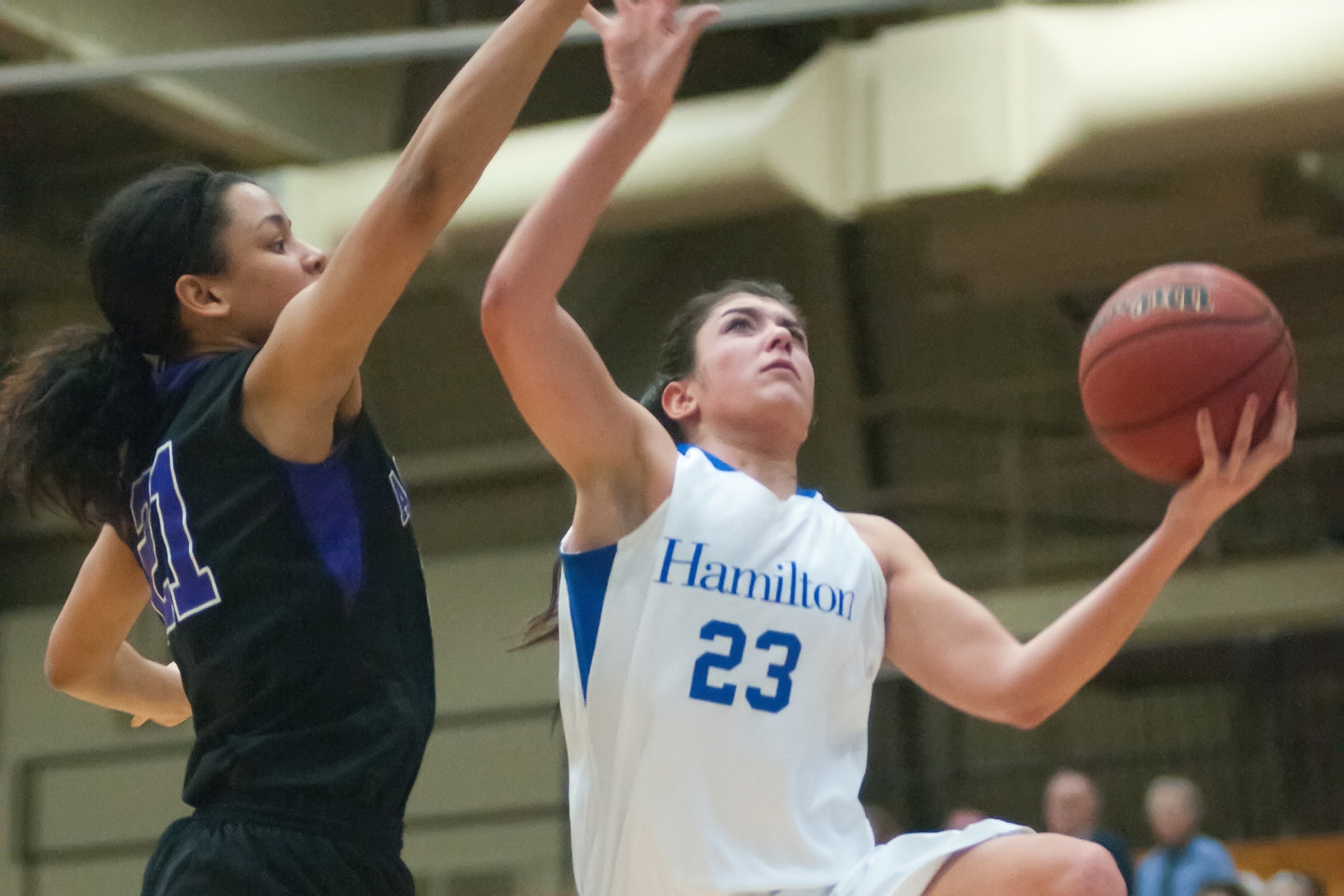 Hamilton College's Samantha Graber '16 posted 15 points, seven rebounds and three steals and the Continentals defeated the Western New England University Golden Bears 53-44 at the 37th Skidmore College Invitational Women's Basketball Tournament held at the Williamson Center on Nov. 16.

Box Score

Graber and teammate Florence Turiaf '17 were selected to the all-tournament team. Hamilton (1-1 overall) had lost 70-65 against SUNY Oneonta in the Continentals' tournament opener on Friday night.

Serena Ward '16, Dani Feigin '14 and Carly Gruenberg '16 chipped in eight points each for the winners. Olivia Pimm '14 grabbed a game-high 10 rebounds. Hamilton shot 52 percent (13-25) from the field in the second half.

Chelsea Vujs dropped in a team-high 14 points for Western New England (1-1). Ashley Flood added eight points and seven boards, and Alicia Lewis went 6-for-6 at the free throw line and finished with eight points. The Golden Bears made just 2 of 17 shots (11.8 percent) from 3-point range.

Vujs gave Western New England a 28-27 lead on a layup with 13:14 left in the second half. The Golden Bears didn't score again until Vujs made another layup nine minutes later.

During those nine minutes, the Continentals scored 26 straight points and took a 53-28 lead with less than five minutes to go. Graber's 3-pointer gave Hamilton the lead for good at 30-28 with 12:19 left. Gruenberg scored all eight of her points during the run and Feigin nailed a pair of trifectas, including the one that ended the spurt. WNEU scored the game's final 16 points.

In a low-scoring first half, neither team led by more than six points and there were four ties. The Continentals held a 20-17 edge at the break.

Hamilton travels to SUNY Oswego for another non-conference game on Wednesday, Nov. 20.