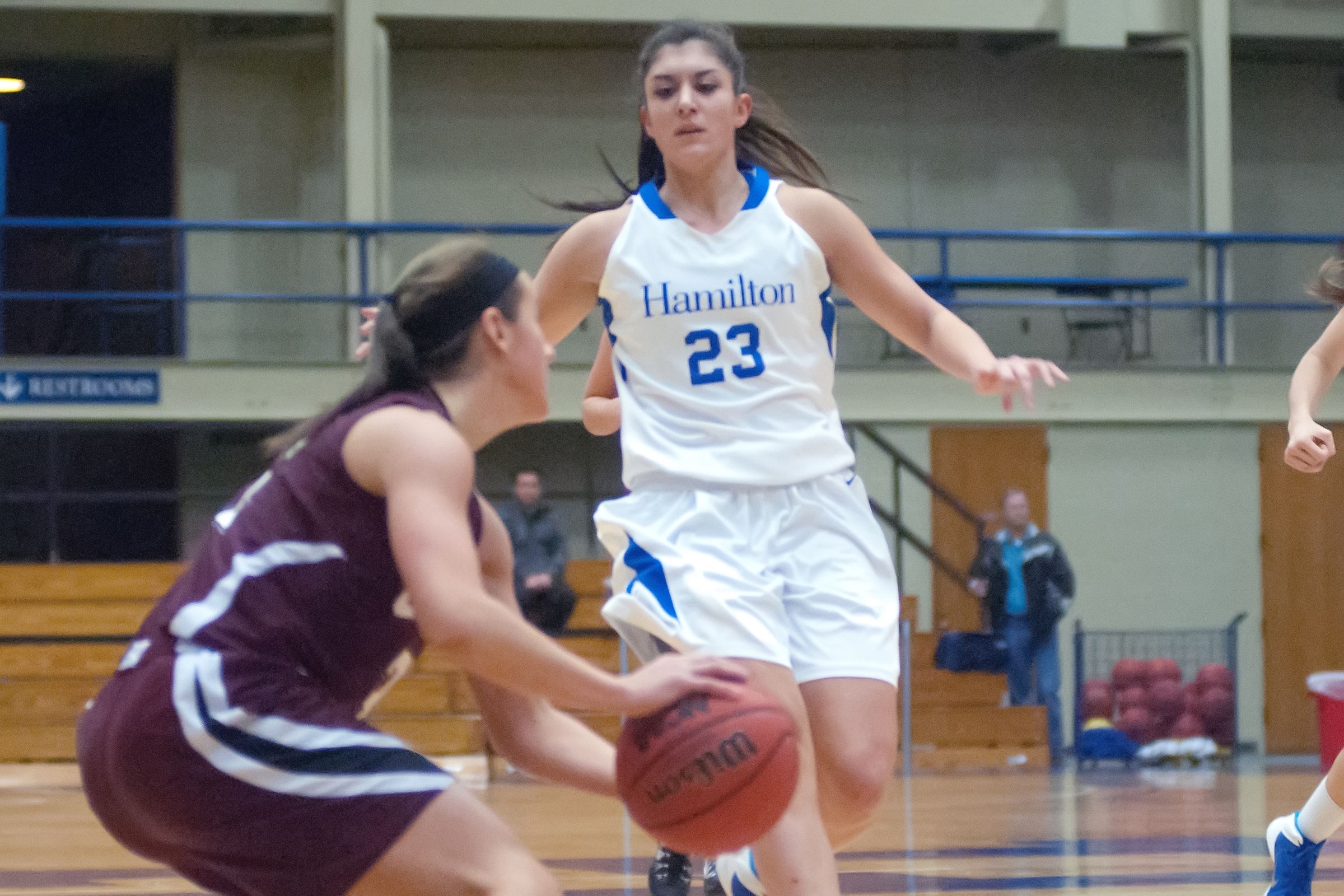 Hamilton College's Sam Graber '16 posted her eighth career double-double and the Continentals defeated Thiel College 62-49 in the consolation game of Buffalo State College's Betty Abgott Invitational on Nov. 16.

Box Score

Graber, who earned all-tournament team honors, scored a game-high 22 points and grabbed a career-high 14 rebounds. She pulled down eight of those 14 on the offensive glass.

Hamilton's Serena Ward '16 chipped in 11 points in 14 minutes off the bench and Theresa Salud '17 added eight points. Caroline Barrett '17 handed out five assists and Samantha Srinivasan '18 blocked three shots.

Jaclyn Watkins paced Thiel with 14 points and Taylor Duchon dropped in nine. Kayla Welty hauled in nine rebounds. The Tomcats were just 5-for-14 at the free-throw line.

Graber's scored the game's first four points and the Continentals (1-1 overall) led the entire afternoon. Salud's 3-pointer gave Hamilton its first double-digit lead at 23-13 with eight minutes left in the first half.

Thiel (0-2) pulled within six points in the final minute of the half but Graber made a layup and Salud drained two free throws with one second left for a 33-23 advantage at the break. The Tomcats shot just 29.6 percent from the floor in the first 20 minutes.

A layup by Graber was the first basket of the second half, and the Continentals held a double-digit lead the rest of the way. A 3-pointer by Corinne Hom '16 gave Hamilton its largest cushion at 58-38 with 4:58 to go.

The Continentals played solid defense all weekend as Thiel shot 36.5 percent from the field for the game. Hamilton committed just 11 turnovers and shot 81 percent (17-21) at the line.

The Continentals take on SUNY Brockport for their home opener at Margaret Bundy Scott Field House on Wednesday, Nov. 19, at 6 p.m.