Women's basketball wins fifth straight game
---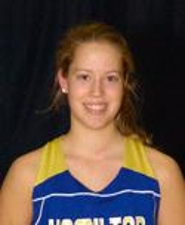 Madie Harlem '13 led Hamilton College with a career-high 29 points in the Continentals' 75-49 win over Lehman College in the second round of Salisbury University's Optimist Classic tournament on Dec. 5.
The Continentals (5-1 overall) won their fifth straight game. Harlem, who was named to the Classic's all-tournament team, was 11-for-16 from the field and tied a team record with seven three-point baskets.

Reisa Asimovic '11 also reached double figures in scoring with 12 points and added five rebounds. Eliza Howe '13 contributed nine points and passed out a team-high six assists. She also tallied a team-high six rebounds.
The Continentals opened the first half with an 11-0 run in the first 2 minutes, 15 seconds, featuring five points from Harlem. Lehman (2-4) slowly climbed back into it and took its first lead at 31-30 with 3:25 remaining in the first half. Harlem answered with a jumper to put Hamilton back in front by one, but Lehman connected on a layup and a three-pointer to go to the break with a 36-32 lead.
In the second half, Hamilton outscored Lehman 43-13 and held them to just 17.9 percent shooting. The Continentals opened the half with a 20-4 run to put themselves up 52-40. The run featured seven points from Howe, including two three-pointers. Hamilton stretched its lead to as many as 27 at 69-42 with 5:53 left.
The Continentals shot 50 percent from the field, including 58.8 percent from three-point range. Hamilton was 13-for-17 at the free-throw line.
Hamilton plays again on Tuesday, Dec. 8, when the Continentals host Elmira College for another non-league game at 6 p.m.