Women's basketball wins fourth straight
---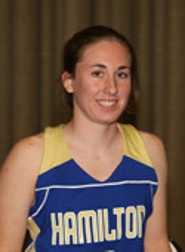 Hamilton College used a balanced scoring attack and shot 54 percent from the floor to post its fourth straight win, a 67-49 rout against visiting Clarkson University, in a Liberty League game at Scott Field House on Feb. 13.
Hamilton improved to 13-7 overall and 6-4 in the league. The Continentals are tied for fourth place in the league standings with William Smith College.
Sydney Fasulo '09 led Hamilton with 14 points and five rebounds, and also handed out four assists. She shot 6-for-7 from the floor. Sarah Schrader '09 contributed 12 points (5-for-7), four assists and two steals. Molly Kane '09 finished with nine points, including the 100th three-pointer of her career. She also chased down four rebounds.
The hosts struggled early and found themselves down 16-9 to Clarkson (6-16, 1-10) after the first eight minutes. A layup by Cate Schafer '10 started a quick 8-1 run during the next two minutes to tie the score at 17-17. The basket came during Schafer's first appearance since an injury took her out of action in December. She finished with nine points on 4-of-4 shooting and four rebounds.
The two teams battled to a 27-27 tie with 5:49 left in the first half, but Hamilton closed the stanza with 11 unanswered points. Schafer chased down an offensive rebound and made the put-back at the buzzer for a 38-27 halftime lead.
The Continentals scored the first six points of the second half and held a double-digit lead the rest of the game. The hosts' largest lead of the night at 59-35 came on a Schrader layup off a Kane steal and assist from Madelyn McGuinnis '09.
Alex Sowinski '10 handed out a team-high five assists and also recorded eight points, four rebounds and two steals. McGuinnis finished with six points, three assists and two blocks.
Hamilton hosts St. Lawrence University on Saturday, Feb. 14, for Senior Day and another league match-up. The Continentals will honor all seven of their seniors.