Women's basketball wins OT thriller
---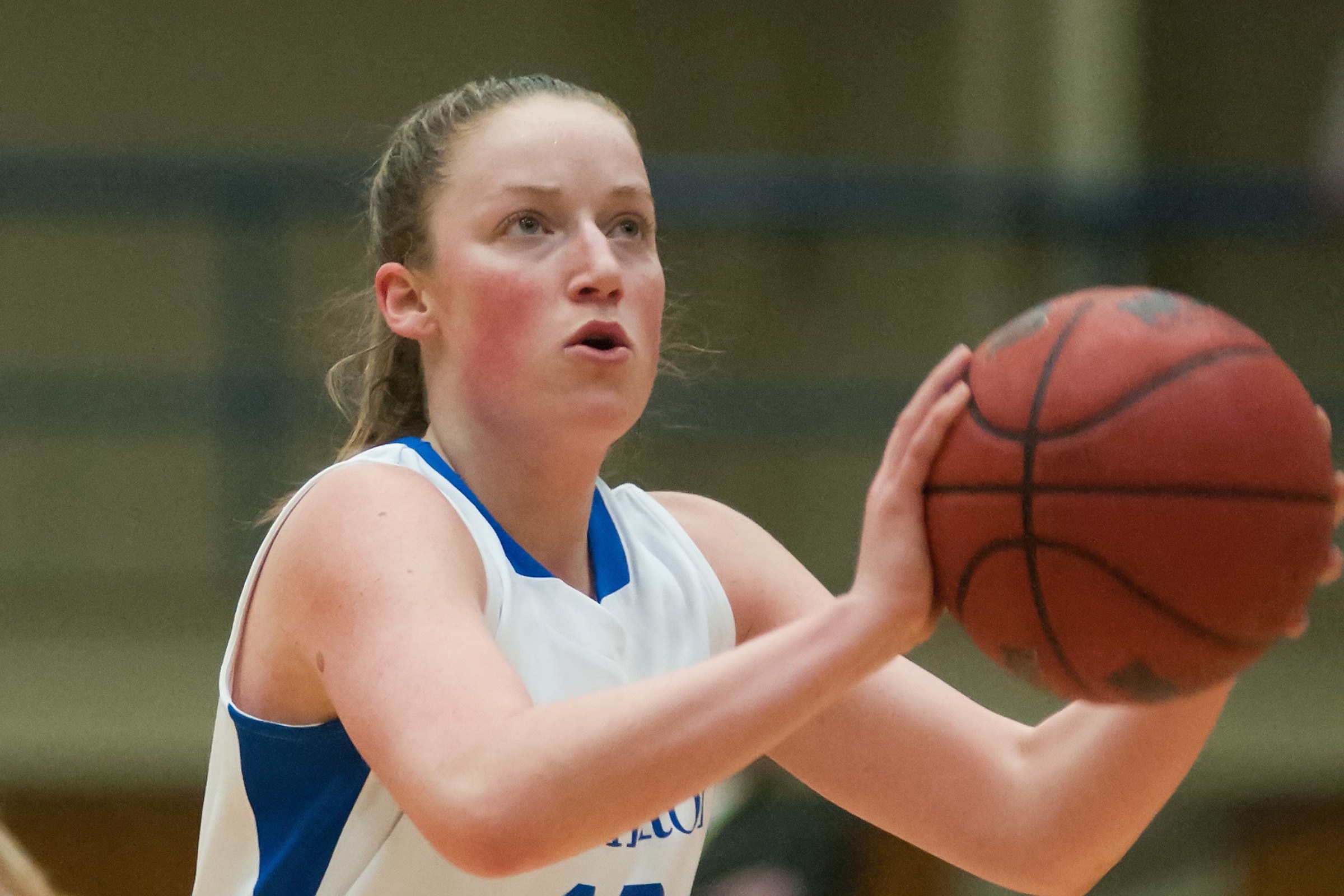 Hamilton College's Dani Feigin '14 scored eight of her career-high 20 points in overtime and the Continentals defeated the SUNY Potsdam Bears 76-69 in a non-conference game at Hamilton's Margaret Bundy Scott Field House on Nov. 23.

Box Score

Samantha Graber '16 posted a double-double with 20 points and 10 rebounds for the Continentals, who played their 2013-14 home opener. Florence Turiaf '17 chipped in season highs of 13 points and eight boards, Serena Ward '16 dropped in 12 points and Olivia Pimm '14 grabbed a career-high 15 rebounds. Hamilton held a 50-40 advantage on the glass.

Chenice Russell '14 paced Potsdam with 13 points and Veronica Sapp '15 added 12. Jessica Kouzan '14 registered 11 points and eight rebounds, and Bailey Weigel '15 shook off early foul trouble and ended up with 10 points. The Bears were just 2 of 14 from beyond the arc.

In overtime, Russell drained a 3-pointer that gave Potsdam a 65-62 lead on the first possession. Turiaf and Weigel made two free throws apiece and Graber made 1 of 2 at the line twice that pulled the Continentals within one at 67-66.

Feigin put Hamilton (2-2 overall) in the lead on a trifecta with 1:54 left but Russell tied the score at 69-69 on a layup with 1:36 remaining. Feigin nailed another 3-pointer that put the Continentals ahead to stay with 39 seconds to go and made two free throws 16 seconds later for a 74-69 advantage. Two free throws by Pimm with 7 ticks left accounted for the final margin.

Neither team led by more than seven points in the first half, and the Bears (2-1) took a 40-37 edge into the break. Both teams went ice cold from the floor in the second half as the largest lead in the half was five points by Hamilton (twice). Turiaf's layup with 1:40 remaining put the Continentals up 62-60 but Weigel sank two free throws with 9 seconds to go and tied the score for the seventh time. A 3-pointer by Hamilton was off the mark in the final seconds of regulation.

The Continentals shot 36.5 percent (23-63) from the field and Potsdam was even worse at 30.6 percent (19-62). Both teams made up for it at the free throw line where the Bears went 29-for-36 (80.6 percent) and Hamilton made 24 of 34 (70.6 percent).

The Continentals host Skidmore College for another non-conference game on Monday, Nov. 25. Potsdam plays at Clarkson University on Tuesday, Dec. 3.