Women's crew rows at Head of the Charles
---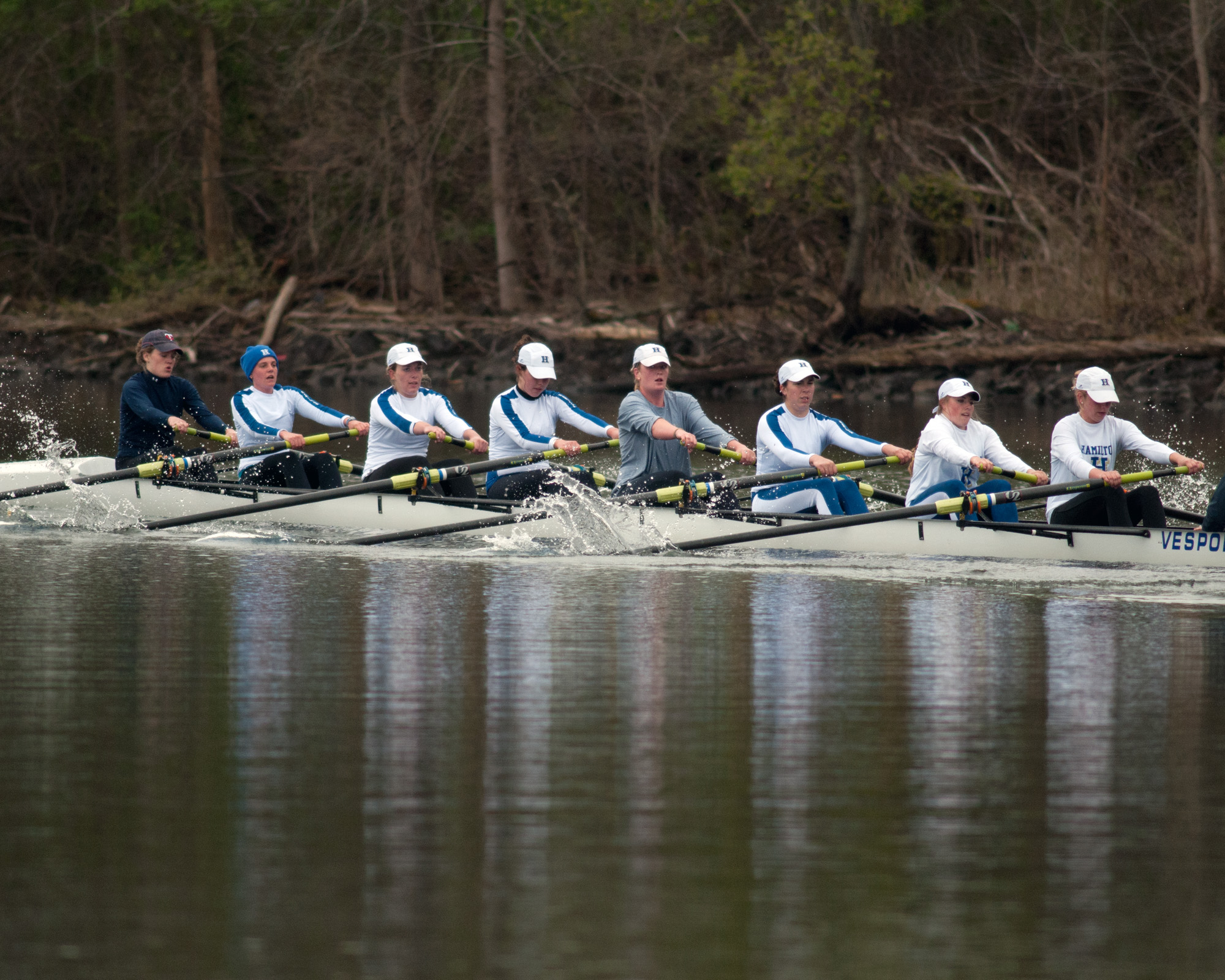 Hamilton College rowers finished 18th in the women's collegiate fours and 20th in the women's collegiate eights at the 2013 Head of the Charles Regatta, which was held on the Charles River in Boston on Oct. 19 and 20.

Results

The collegiate fours was held on Saturday, when conditions were sunny with temperatures in the mid-60's and a mild tail wind at 5 to 15 mph. The course was approximately 3 miles long into a minimal current. Sunday's racing conditions were the same except for a 10 to 15 mph head wind.

Hamilton, which posted a time of 19 minutes, 48.211 seconds, was one of 25 finishers in the collegiate eights. Grand Valley State University was the race winner in 17:46.761, Trinity College was runner-up in 17:48.154 and William Smith College was third with a time of 18:02.464.

Hamilton was one of 33 finishers and recorded a time of 19:39.857 in the collegiate fours. Barry University claimed the gold medal in 18:14.893, McGill University was runner-up in 18:19.712 and Georgia Tech took third place in 18:40.457.

The coxswain for Sunday's collegiate eights was Heather Piekarz '16. Leah Sorensen '16 was in the stroke seat and Nina Byers '16 was in the bow seat. Seats seven through two were in the following order: Meredith Garner '15, Maddy Maher '17, Lily Trapkin '17, Grace Bowers '15, Ally Kontra '15 and Keara Fenzel '14.

Sydney Cantor '16 was the coxswain for the collegiate fours. Margaret Hylas '15 was in the stroke seat, Keara Lynn '16 was in the 3-seat, Erin Gerrity '15 was in the 2-seat and Becca Straw '14 was in the bow seat.
Hamilton travels to Philadelphia for the Head of the Schuylkill on Saturday, Oct. 26.