Women's cross country competes in state championships
---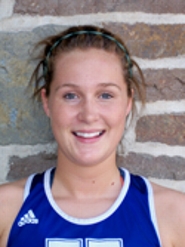 Abby King '11 was the top finisher for Hamilton College at the New York State Collegiate Track Conference championships, which were held at Genesee Valley Park in Rochester, N.Y., on Oct. 24.
King finished 10th of 97 runners and received second team all-state honors. She recorded a time of 19:13.07 on the 5,000-meter course. The top 21 runners make the all-state team. As a team, Hamilton finished in fifth place. A runner from St. Lawrence University won the individual title with a time of 18:02.61.
The next finisher for Hamilton was Tory Grieves '12, who took 25th place with a time of 20:03.83. Emily Potter '12 clocked a time of 20:24.98 and finished 33rd. Kate Hails '10 was the next Continental to cross the finish line in 36th place in 20:27.29. Rounding out the top five for Hamilton was Meredith FitzPatrick '11, who came in 38th place with a time of 20:33.48.
Hamilton recorded a team total of 133 points. St. Lawrence took first place with a total of 23 team points. Rensselaer finished second with 67 team points, and University of Rochester took third with 79 points.
The Continentals compete at the New England Small College Athletic Conference championships, which will be held at Wickham Park in Hartford, Conn., on Sunday, Nov. 1.