Women's cross country finishes 13th at NCAA regionals
---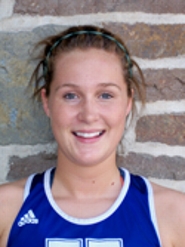 Abby King '11 earned all-region honors for the first time as Hamilton College placed 13th of 33 teams at the 2009 NCAA Division III Atlantic regional cross country championships at Letchworth State Park in Mount Morris, N.Y., on Nov. 14.
King recorded a career-best time of 23 minutes, 16 seconds on the 6,000-meter course, and finished 32nd of 239 athletes. The top 35 finishers make the all-region team. A runner from St. Lawrence University took first place with a time of 21:22.0.
Next to cross the finish line for the Continentals was Meredith FitzPatrick '11, who took 60th place in 23:46.0. Emily Potter '12 completed the course in 24:05.6 and took 76th place. Finishing in 81st palce was Tory Grieves '12, who clocked a time of 24:14.3. Maddy Gunter '11 rounded out the top five for the Continentals in 87th place in 24:25.9.
Hamilton recorded a team total of 332 points. St. Lawrence finished in first place with 43 team points. SUNY Geneseo took second with 74 points, and New York University rounded out the top three with a total of 138 team points.