Women's cross country competes in Lehigh invitational
---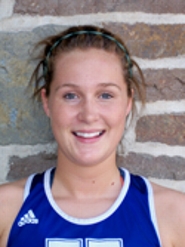 Hamilton College finished in 23rd place of 39 teams competing in the Brown race at Lehigh University's 36th annual Brooks Paul Short Run in Bethlehem, Pa., on Oct. 2.
All of the top five finishers for Hamilton recorded career-best times on the 6,000-meter course. Abby King '11 led the way in 76th place of 338 runners with a time of 23:19. The second finisher for the Continentals was Tory Grieves '12 in 97th place with a time of 23:32.
Maddy Gunter '11 was next in 23:39. Emily Potter '12 was the fourth Continental across the finish line in 24:01. Rounding out the top five for Hamilton was Kate Hails '10 in 24:14.
The Continentals recorded a total of 606 team points. Division II Kutztown University finished first with 111 team points. Taking second place was Bloomsburg University -- another Division II program -- with 215. Dickinson College rounded out the top three with a total of 277 points.
Hamilton next competes in its own invitational on Saturday, Oct. 10, starting at 11 a.m.