Women's cross country places 10th at NCAA regionals
---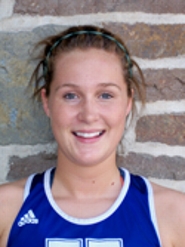 Hamilton College finished 10th of 33 teams at the 2010 NCAA Division III Atlantic Region championships at Fortin Park in Oneonta, N.Y., on Nov. 13.

Abby King '11 paced Hamilton in 43rd place with a time of 23:34.3 on the 6-kilometer course. A total of 236 runners competed, and the winning time was 21:11.9.

Meredith FitzPatrick '11 was next in 59th place with a time of 23:52.7. Maddy Gunter '11 crossed the finish line in 75th place with a time of 24:18.3, and Emily Potter '12 was right behind her in 24:19.9. Eva Hunt '11 rounded out the team's top five with a time of 24:49.2.

The Continentals finished with 338 team points. St. Lawrence University won the team title with 59, and SUNY Geneseo was runner-up with 78.