Women's cross country places 10th at NESCAC championship
---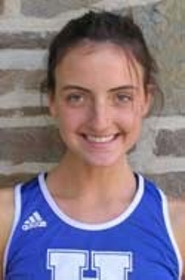 Hamilton College finished in 10th place at the 11-team New England Small College Athletic Conference championship at Pineland Farms in New Gloucester, Maine, on Nov. 1.
Meredith FitzPatrick '11 was the first Hamilton runner across the finish line and 34th overall with a time of 23:44 on Bates College's 6,000-meter course. An Amherst College athlete won the race in 21:49.
Gen Flanders '09 was 62nd out of 117 runners with a time of 24:22. Emily Potter '12 followed in 68th place with a time of 24:32. Abby King '11 ended up 70th in 24:35 and Maddy Gunter '11 rounded out the Continentals' top five in 83rd place with a time of 24:57.
Hamilton's final team score was 259 points. Middlebury College and Williams College shared the team title with 48 points apiece. Five NESCAC teams are ranked in the latest NCAA Division III Top 35 coaches poll.
The Continentals host the New York State Collegiate Track Conference championship on Saturday, Nov. 8. The women's race starts at noon.