Women's cross country places 10th at Oneonta
---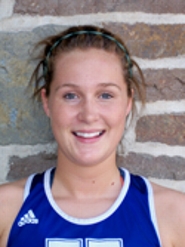 Hamilton College finished in 10th place at the 20-team SUNY Oneonta Airfield Invitational held at Fortin Park in Oneonta, N.Y., on Sept. 17.
Hamilton's top five runners finished within 26 seconds of each other. Abby King '11 was the first Continental and the 50th runner overall across the finish line with a time of 23:39.1 on the 6-kilometer course. A total of 246 athletes competed in the race.
Meredith FitzPatrick '11 was next in 61st place and a time of 23:53.2. Sara Scheineson '12 followed in 70th place with a time of 23:59.5. Emily Potter '12 was 75th in 24:04.2 and Maddy Gunter '11 finished one spot behind Potter with a time of 24:05.6.
Hamilton ended up with 294 team points. St. Lawrence University (50 points) edged SUNY Geneseo (68) for the team title. The winning individual time was 21:21.7.
The Continentals are off until Oct. 1, when Hamilton travels to Lehigh University for the Paul Short Invitational.