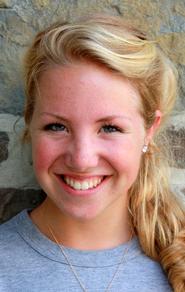 Hamilton College's Lainie Smith '16 led the Continentals to 13th place out of 40 teams at the 2014 NCAA Division III Atlantic Regional Cross Country Championships, which were held at Genesee Valley Park in Rochester on Nov. 15.

Results

Smith finished in 13th place herself out of 272 runners with a personal-record time of 22:01.5 on the 6-kilometer course. Amy Regan '16 from Stevens Institute of Technology was the individual winner in 21:05.8.

Smith will await the official announcement of the teams and individuals that have qualified for the 2014 NCAA Division III Championships, which will be released on Sunday, Nov. 16.

Lindsay Heyer '17 was next for Hamilton in 77th place and a career-best time of 23:33.3. Lilly Pieper '18 was close behind Heyer in 83rd place and a time of 23:38.8. Pieper obliterated her previous best 6K time by more than a minute. Krystina Choinski '15 finished 91st in 23:47.1 and Emily Banzer '15 rounded out the Continentals' top five in 105th place with her collegiate-record time of 24:01.9.

Hamilton ended up with 365 team points. Nationally ranked No. 2 St. Lawrence University edged No. 5 SUNY Geneseo by one point for the regional title, 50 to 51. No. 10 SUNY Oneonta was third with 120 points, No. 27 SUNY Cortland was fourth with 189, No. 26 Rochester Institute of Technology was sixth with 213 and No. 35 New York University finished ninth with 287 points.