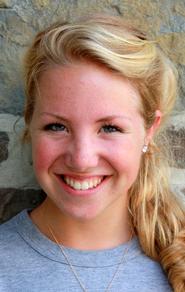 Lainie Smith '16 led the women's cross country team to second place out of 16 teams in the 2014 Hamilton College Cross Country Invitational on Oct. 11.

Results

Smith finished second in the 161-runner field with a 5-kilometer time of 17:24.9. She finished just behind the University of Ottawa's Ruth Burrowes, who hit the tape in 17:24.1. Smith's time is the second-fastest by a Hamilton runner on her home course.

Hannah Jerome '18 was next for the Continentals in 11th place and a time of 18:16.3. Jerome's time is the sixth-fastest on the home course on the team's all-time list. Michelle Fish '17 finished 15th with a personal-record time of 18:28.9 and Lindsay Heyer '17 was 20th in a personal-best 18:53.9. Emily Banzer '15 rounded out Hamilton's top five in 22nd place and a collegiate-best time of 18:57.4.

Ottawa captured the team title with 22 points and the Continentals were runners-up with 68. SUNY Plattsburgh came in third place with 107 team points.

Hamilton is off until Saturday, Oct. 25, when the Continentals compete in the 2014 New York State Collegiate Track Championships, hosted by St. John Fisher College.