Women's cross country places 2nd in short course invite
---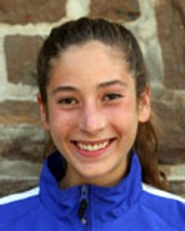 Four Hamilton College runners finished in the top 10 and the Continentals placed second out of four teams in the 2013 Hamilton Short Course Invitational on Sept. 14.

Adrian Walsh '16 captured second place out of 61 runners with a time of 15 minutes, 0.9 seconds on the 4-kilometer course for the Continentals. Walsh's time is the fastest by a Hamilton runner on the Continentals' 4K course.

Hannah Kloeckner '14 was third in 15:30.8, Hannah Lyons '14 took seventh place with a time of 15:57.2 and Samantha Buttrick '17 ended up 10th in 16:04.5. Allie Gurney '14 rounded out Hamilton's top five in 11th place with a time of 16:08.3.

Rensselaer won the team title with 29 points and the Continentals ran a close second with 33. Le Moyne College had 78 points and Clarkson University was fourth with 88. Rensselaer's Grace Tilton was the individual winner with a time of 14:35.1.

Hamilton competes in a meet hosted by Rensselaer on Friday, Sept. 20.