Women's cross country places 3rd in short course invite
---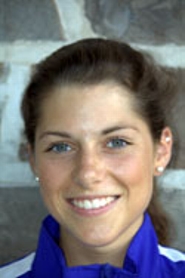 Hamilton College placed third of eight teams in the 2011 Hamilton Short Course Cross Country Invitational on Sept. 10.

Results

Hannah Lyons '14 led the Continentals in 10th place out of 89 finishers with a time of 16 minutes, 11.2 seconds on the 4-kilometer course. Sarah Ohanesian '14 was right behind in 11th place with a time of 16:17.5. Sara Scheineson '12 finished 18th in 16:49.2.

Rachel Cackett '13 was 22nd with a time of 16:54.3, and Hallie Loft '15 rounded out Hamilton's top five in 24th place as she crossed the finish line in 16:55.7. Glenn Watkins '12 ended up 25th with a time of 16:57.2. The winning time was 14:51.8.

Division II program Mansfield University captured the team title with 26 points. SUNY Cortland was second with 37 and the Continentals were next with 85 points. Division II Le Moyne College finished fourth with 101 points.

Hamilton competes in an invitational hosted by SUNY Oneonta on Saturday, Sept. 17.