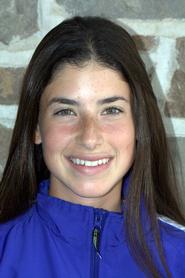 Hamilton College finished in fourth place out of seven teams at the 2014 Middlebury College Aldrich Cross Country Invitational on Sept. 20.

Results

Hanna Jerome '18 led Hamilton in 14th place out of 96 runners with a time of 19:48.7 on the 5-kilometer course. Emily Banzer '15 was next in 23rd place with a time of 20:24.2 and Lindsay Heyer '17 finished right behind Banzer in 24th place in 20:31.3.

Alex Reading '16 ended up in 27th place with a time of 20:45.1 and Michelle Fish '17 rounded out the Continentals' top five in 28th place with a time of 20:48.9.

Nationally ranked No. 8 Middlebury captured the team title with 15 team points and Division II Saint Michael's College was runner-up with 76. Colby College finished third with 79 points and Hamilton recorded 85. Middlebury's Katie Carlson was the individual winner with a time of 18:49.5.

The Continentals are off until the SUNY Geneseo Invitational at Letchworth State Park on Saturday, Oct. 4.