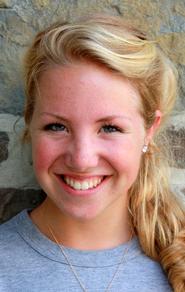 Lainie Smith '16 led Hamilton College to fourth place out of 10 teams at the 2014 New York State Collegiate Track Conference Cross Country Championships, which were held at St. John Fisher College on Oct. 25.

Results

Smith captured third place in the 113-runner field with a 6-kilometer time of 22:19.4. She earned a spot on the all-conference first team for her efforts. St. Lawrence University's Cassia Hameline '16 was the race winner in 21:50.7.

Lindsay Heyer '17 was next for the Continentals in 20th place with a time of 24:12.1. Heyer's finish was good enough for honorable mention all-conference. Emily Banzer '15 ended up 25th in 24:41.1 and Lilly Pieper '18 was right behind Banzer in 26th place with a personal-best time of 24:44.7. Tina Choinski '15 rounded out Hamilton's top five in 33rd place and a time of 25:08.

The Continentals posted a total of 106 team points. Nationally ranked No. 2 St. Lawrence claimed the team title with 20 points and Ithaca College was runner-up with 69.

Hamilton competes at the 2014 NESCAC Cross Country Championships at Middlebury College on Saturday, Nov. 1. The women's race starts at 1 p.m.