Women's cross country places 5th at Geneseo
---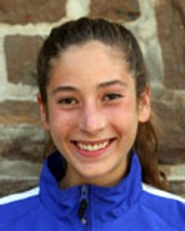 Hamilton College's Adrian Walsh '16 paced the Continentals to fifth place out of 18 teams at the 35th annual SUNY Geneseo Cross Country Invitational, which was held at Letchworth State Park on Oct. 5.

Complete Results

Walsh finished third out of 268 runners with a time of 22 minutes, 18.1 seconds on the 6-kilometer course. Her 6K time is believed to be the fastest in the history of Hamilton women's cross country. Rensselaer's Grace Tilton recorded the winning time of 21:48.8.

Hamilton's Hannah Kloeckner '14 ended up in 28th place with a personal-record time of 23:06.5, Allie Gurney '14 was 36th in 23:18.2 and Sarah Ohanesian '14 took 39th place with a time of 23:20.8. Michelle Fish '17 rounded out the Continentals' top five in 74th place with a time of 24:03.2.

Hamilton posted a team score of 159 points. Nationally ranked No. 13 Geneseo captured the team title with 55 points, Canada's Laurentian University was runner-up with 99 points and No. 28 Vassar College ended up third with 135.

The Continentals host their own invitational on campus on Saturday, Oct. 12, at 11 a.m.