Women's cross country places 6th at state meet
---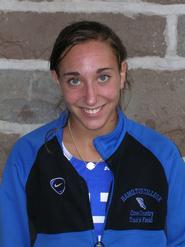 Hamilton College finished 6th out of 10 teams at the 2011 New York State Collegiate Track Conference (NYSCTC) championships at St. Lawrence University in Canton, N.Y., on Oct. 22.

Full results

Just 29 seconds separated Hamilton's top five runners. Sara Scheineson '12 finished 22nd out of 110 runners with a time of 20 minutes, 27 seconds on the 5-kilometer course. Hannah Lyons '14 was 26th in 20:31, and Krystina Choinski '15 ended up 35th with a time of 20:44.

Rachel Cackett '13 finished 39th in 20:50, and Emily Banzer '15 rounded out the Continentals' top five in 43rd place with a time of 20:56. The winning time was 18:48.

Nationally ranked No. 12 St. Lawrence captured the team title with 24 team points and Ithaca College was runner-up with 56. The University of Rochester finished third with 86 points and Hamilton had 151.

The Continentals compete in the 2011 NESCAC championships at Amherst College on Saturday, Oct. 29.