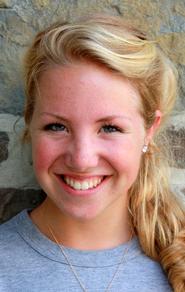 Hamilton College finished in seventh place out of 14 teams at the multi-divisional 2014 Saratoga Cross Country Invitational held at Saratoga Spa State Park on Sept. 13.

Results

Hamilton's Lainie Smith '16 led the way in 13th place out of 201 runners with a career-best time of 17:59 on the 5-kilometer course. Hanna Jerome '18 ended up in 23rd place with a time of 18:16 and Michelle Fish '17 was 47th in a personal-record time of 18:58.

Emily Banzer '15 crossed the finish line in 65th place with a collegiate-best time of 19:17 and Carolyn King '16 rounded out the Continentals' top five in 74th place and a career-best time of 19:23.

Stevens Institute of Technology's Amy Regan was the individual champion with a time of 17:07. Nationally ranked No. 20 St. Lawrence University captured the team title with 41 points and No. 2 Williams College was right behind with 43. No. 9 New York University was third with 87 team points and No. 22 Ithaca College took fifth place with 164. Hamilton finished with 189 team points.

The Continentals compete in the Middlebury College Invitational on Saturday, Sept. 20.