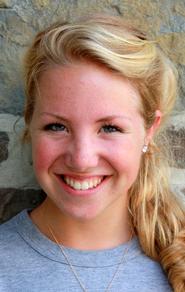 Lainie Smith '16 led Hamilton College to eighth place out of 19 teams at the 36th annual SUNY Geneseo Cross Country Invitational at Letchworth State Park on Oct. 4.

Results

Smith finished seventh out of 286 runners with a personal-record time of 22:06.1 on the 6-kilometer course. The winning time of 21:29.4 was posted by Geneseo's Cassie Goodman.

Hamilton's Hanna Jerome '18 was 45th in 23:09.4 and Michelle Fish '17 ended up in 74th place with a time of 23:29.8. Krystina Choinski '15 landed in 81st place with a collegiate-best time of 23:39.4 and Lindsay Heyer '17 rounded out the Continentals' top five in 86th place and a career-best time of 23:47.1.

Hamilton totaled 245 team points. Nationally ranked No. 7 Geneseo captured the team title with 35 points, No. 15 SUNY Oneonta was runner-up with 111 and No. 32 Rochester Institute of Technology was third with 125. No. 24 Elizabethtown College finished fifth with 146 team points and No. 9 Dickinson College was sixth with 164 points.

The Continentals host their own Hamilton Invitational on Saturday, Oct. 11.