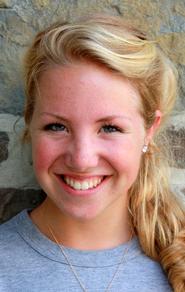 Hamilton College finished in eighth place out of 11 teams at the 2014 NESCAC Cross Country Championships, which were held at Middlebury College on Nov. 1.

Results

Lainie Smith '16 paced the Continentals in seventh place out of 122 runners with a time of 22:47 on the 6-kilometer course. The finish is the best for Smith at the NESCAC championships. Middlebury's Alison Maxwell '15 was the individual winner in 22:16.8.

Hamilton's Michelle Fish '17 was next in 31st place and a time of 23:54.5. Lindsay Heyer '17 ended up in 54th place with a time of 24:30.8 and Lilly Pieper '18 was 77th in 25:08.8. Emily Banzer '15 rounded out the Continentals' top five in 79th place and a time of 25:14.1.

Hamilton recorded a team score of 201 points. Nationally ranked No. 3 Middlebury captured the team title with 38 points, No. 7 Williams College was runner-up with 47, No. 21 Amherst was third with 108 and No. 11 Tufts landed in fifth place with 126.

The Continentals are off until Saturday, Nov. 15, when they compete in the 2014 NCAA Division III Atlantic Regional Championships at Genesee Valley State Park.