Women's cross country places eighth at NCAA regionals
---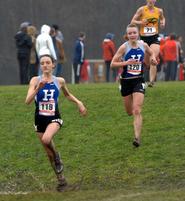 Gen Flanders '09 and Meredith FitzPatrick '11 delivered all-region performances as they helped Hamilton College to eighth place in the NCAA Division III Atlantic Regional at St. Lawrence University's 6,000-meter Robert C. Hoffmann Cross Country Course on Nov. 15.
Flanders and FitzPatrick pushed each other to 33rd and 34th place, respectively. The two finished just three seconds apart -- Flanders hit the tape in 24:32 and FitzPatrick followed in 24:35. This is the first all-region honor for Flanders, and the second for FitzPatrick in as many years. All of the top 35 finishers make the all-region team.
Maddy Gunter '11 crossed next for the Continentals in 49th place with a time of 24:54 and Kate Hails '10 was 51st in 24:56. Emily Potter '12 rounded out Hamilton's top five in 54th place with a time of 24:59. Just 27 seconds separated the Continentals' first five runners. A St. Lawrence runner captured the individual title with a time of 22:32.
Hamilton accumulated 221 points, which was good for eighth place in the 30-team field. SUNY Geneseo edged SUNY Cortland by eight points for the team championship. Geneseo ended up with a total of 64.
The field for the NCAA Division III championship, which will be held on Saturday, Nov. 22, will be finalized by Sunday.