Women's cross country places fifth at own invitational
---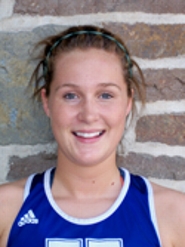 Abby King '11 finished ninth out of 126 runners as Hamilton College placed fifth in its own 11-team invitational on Oct. 10.
King finished the sloppy 5,000-meter course with a time of 18:58.1. King's time ranks ninth on Hamilton's list of fastest times on its home course. A runner from Ithaca College took first place in 18:21.3.
Tory Grieves '12 was the second Continental to cross the finish line, taking 21st place in 19:26.7. Emily Potter '12 finished 28th with a time of 19:44.8. Finishing in 31st place was Rachel Cackett '13, who recorded a time of 19:50.1. Rounding out the top five for Hamilton was Chelsea Stone '10, who took 40th place and finished with a time of 20:15.8. 2007 NCAA championships qualifier Meredith FitzPatrick '11 was injured and did not compete. Maddy Gunter '11 missed the meet due to a class assignment.
The Continentals earned a team score of 109 points. Queen's University (Canada) took first place with a total of 20 team points. Ithaca College and the University of Rochester tied for second place with 75 points.
Hamilton next competes at the New York State Collegiate Track Conference Championships at Genesee Valley Park in Rochester, N.Y., on Oct. 24.