Women's cross country places fifth in state meet
---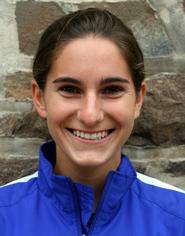 Hamilton College finished in fifth place out of 12 teams at the 2012 New York State Collegiate Track Conference (NYSCTC) Championships held at Center Park in Fairport, N.Y., on Oct. 20.

Results

Sarah Ohanesian '14 and Lainie Smith '16 earned spots on the NYSCTC all-conference team based on their performances at the championship meet. The top 21 runners make the all-conference team.

Ohanesian made first team all-conference as she finished in fourth place out of 141 runners with a career-best time of 22 minutes, 58.96 seconds on the 6-kilometer course. Smith took 13th place with a time of 23:42.46 and earned all-conference second team honors.

Allie Gurney '14 just missed making the all-conference team, finishing in 22nd place with a time of 24:07.95. Hannah Lyons '14 came in 37th with a time of 24:38.64, and Rachel Cackett '13 rounded out the scoring for the Continentals in 44th place in 24:51.64.

Lauren Norton of the University of Rochester won the individual title with a time of 22:18.02. The field included nationally ranked No. 7 St. Lawrence University and No. 31 Rochester. St. Lawrence won the team competition with 23 points and Ithaca College finished second with 88. Rochester edged the Continentals for fourth place with 93 points, and Hamilton finished with 109.

Hamilton competes in the 2012 NESCAC Championships at Bowdoin College on Saturday, Oct. 27.