Women's cross country places seventh at St. Lawrence
---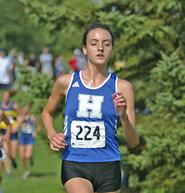 Hamilton College placed seventh at St. Lawrence University's 15-team Ronald C. Hoffman Invitational in Canton, N.Y., on Sept. 27.
Meredith FitzPatrick '11 led Hamilton as she finished in 29th place out of 189 runners. FitzPatrick, who competed in the 2007 NCAA Division III championship, recorded a time of 23:56 on the 6,000-meter course. The Continentals were racing on a 6-kilometer course for the first time this year.
Perry Ryan '12 continued an excellent rookie year as she took 32nd place in 24:04. Classmate Emily Potter '12 was 42nd with a time of 24:23. Gen Flanders '09 crossed the finish line right behind Potter in 44th place with a time of 24:27. Maddy Gunter '11 rounded out Hamilton's top five in 46th place and a time of 24:31.
The Continentals finished with 175 team points. SUNY Geneseo (60) edged Cortland (76) by 16 points for the team title. Hamilton returns to this course in November for the NCAA Division III Atlantic regional championship.
The Continentals take a weekend off before they host the Hamilton Invitational on Saturday, Oct. 11, at 11 a.m.