Women's cross country places seventh in Saratoga Invite
---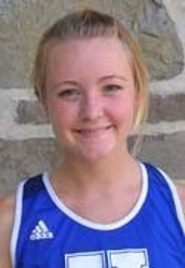 Gen Flanders '09 led Hamilton College to seventh place in the 24-team Saratoga Invitational, which was held at Saratoga Spa State Park on Oct. 25.
Flanders finished 34th overall out of 267 runners with a time of 19:05 on the 5,000-meter course. Abby King '11 took 42nd place in 19:13 and Emily Potter '12 was close behind in 45th place with a time of 19:16.
Kate Hails '10 followed Potter in 48th place and a time of 19:19. Maddy Gunter '11 rounded out Hamilton's top five in 55th place with a time of 19:25. 2007 NCAA championship qualifier Meredith FitzPatrick '11 did not compete and neither did Perry Ryan '12, who has been the team's No. 2 finisher in each of the past two races.
The Continentals finished with 218 team points. St. Lawrence University won the team title with 65 points and Ithaca College was runner-up with 89. Hamilton travels to New Gloucester, Maine, for the New England Small College Athletic Conference championship on Saturday, Nov. 1, at 2 p.m.