Women's cross country places ninth at NESCAC championships
---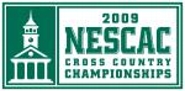 Hamilton College finished in ninth place in the 2009 NESCAC championships held at Wickham Park in Manchester, Conn., on Nov. 1.
Tory Grieves '12 was the top runner for the Continentals as she finished the 6,000-meter course in 23 minutes, 51 seconds, and came in 50th place out of 121 runners. A runner from Amherst College finished first in 21:39.
Next to finish for Hamilton was Meredith FitzPatrick '11, who took 57th place in 24:03. Kate Hails '10 finished in 24:23 and Emily Potter '12 posted a time of 24:33. Rounding out the top five for the Continentals was Eva Hunt '11, who recorded a career-best 6-kilometer time of 24:44.
Hamilton finished with a total of 262 team points. Middlebury College topped the 11-team field with 49 team points. Williams College took second with 59 team points, and Amherst finished third with 71 points. Four NESCAC teams are ranked in the Division III Top 35 coaches poll.
The Continentals compete at the NCAA Division III Atlantic regional championships at Letchworth State Park in Geneseo, N.Y., on Saturday, Nov. 14.