Women's cross country places third at home invite
---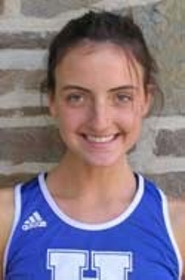 Hamilton College ended up in third place at Hamilton's five-team short course invitational on Sept. 11.
Meredith FitzPatrick '11, who qualified for the 2007 NCAA Division III cross country championships, led the Continentals as she finished ninth with a time of 15:34.8 on the 4-kilometer course. A total of 73 runners competed. The winning time was 14:55.3.
Abby King '11 took 13th place and Emily Potter '12 was right behind in 14th with times of 15:50.1 and 15:56.3, respectively. Maddy Gunter '11 crossed the finish line in 18th place with a time of 16:03.6. Eva Hunt '11 rounded out Hamilton's top five in 19th place and a time of 16:05.0.
SUNY Cortland easily won the team title with 24 points. Division II Mansfield University was next with 48 and Hamilton came in third with 73. The Continentals compete in SUNY Oneonta's Airfield Invitational on Friday, Sept. 17, at 5 p.m.