Women's cross country places third at Oneonta
---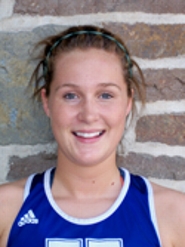 Abby King '11 and Meredith FitzPatrick '11 finished third and fourth, respectively, for Hamilton College in the SUNY Oneonta Airfield Invitational on Sept. 18.
King finished the 4,500-meter course with a time of 17:09. FitzPatrick was just four seconds behind her with a time of 17:13. Next for the Continentals was Emily Potter '12, who came in 12th place (17:41). Maddy Gunter '11 finished in 17:57 and placed 17th. Rachel Cackett '13 rounded out Hamilton's top five runners as she crossed the finish line in 18:07 for 19th place.
The Continentals had a total of 55 team points to take third place in the six-team field. SUNY Plattsburgh placed first with a total of 50 points. Oneonta finished second with 53 team points.
Hamilton College will travel to race in the Lehigh University Invitational on Oct. 2.