Women's cross country runner honored by NESCAC
---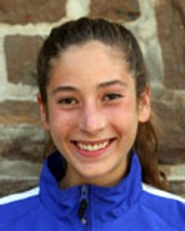 Hamilton College's Adrian Walsh '16 (Bozeman, Mont./Cate School [Calif.]) was named the NESCAC Performer of the Week for women's cross country on Oct. 7.

Walsh paced the Continentals to fifth place out of 18 teams at the 35th annual SUNY Geneseo Cross Country Invitational, which was held at Letchworth State Park on Oct. 5. She finished third out of 268 runners with a time of 22 minutes, 18.1 seconds on the 6-kilometer course. Her 6K time is believed to be the fastest in program history.

Hamilton posted a team score of 159 points. Nationally ranked No. 13 Geneseo captured the team title with 55 points, Canada's Laurentian University was runner-up with 99 points and No. 28 Vassar College ended up third with 135.

The Continentals host their own invitational on campus on Saturday, Oct. 12, at 11 a.m.