Women's cross country runner-up at Geneseo
---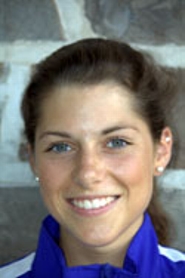 Hamilton College placed second of 11 teams at the 2011 SUNY Geneseo Invitational at Letchworth State Park in Castile, N.Y., on Oct. 1.

Results

Hannah Lyons '14 led Hamilton with her best 6-kilometer time of 24 minutes, 3.2 seconds, which was good for 14th place out of 123 runners. It's the second consecutive race in which she has set a personal 6K record. Krystina Choinski '15 finished five spots behind Lyons in 19th place in 24:20.1.

Rachel Cackett '13 finished in 23rd place in 24:42, and Sarah Scheineson '12 was the very next finisher in 24:44. Glenn Watkins '12 completed Hamilton's top five in 29th place at 24:54.4. Right behind Watkins in 30th place in 24:55.5 was Emily Banzer '15. The winning time was 22:30.6.

Nationally ranked No. 7 SUNY Geneseo took home the title with a team score of 23 points. Hamilton was second with 82 points, followed by Division II Le Moyne College with 109 and Houghton with 122.

Hamilton hosts the Hamilton Invitational on Saturday, Oct. 8, at 11 a.m.