Women's cross country ties for 1st in Hamilton Invite
---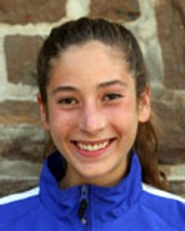 Hamilton College's Adrian Walsh '16 placed second as an individual and the Continentals tied for first place out of 13 teams in the 2013 Hamilton College Cross Country Invitational on Oct. 12.

Results

The Continentals matched the University of Ottawa with 42 team points, but Ottawa was declared the champion by tie-breaker criteria. Utica College finished a distant third with 112 points. Olivia Robertson of the Ottawa Lions was the individual winner with a time of 17 minutes, 48.4 seconds on the 5-kilometer course.

Walsh finished in 17:59.5 and was one of just two runners out of 148 that finished under 18 minutes. Her time is the fourth fastest by a Hamilton runner on her home 5,000-meter course.

Sarah Ohanesian '14 was next for the Continentals in sixth place with a time of 18:25.3 and Hannah Kloeckner '14 finished 10th in 18:41.0. Both times were personal records for a 5K.

Allie Gurney '14 was 13th in a personal-best time of 19:02.2 and Samantha Buttrick '17 placed 19th in 19:09.9. Michelle Fish '17 and Krystina Choinski '16 rounded out Hamilton's top seven. Fish posted a time of 19:19.2, which was good for 22nd place, and Choinski ended up 27th in 19:38.0.

The Continentals are idle next weekend before they host the 2013 New York State Collegiate Track Conference Championships on Saturday, Oct. 26.