Women's cross country wins own invitational
---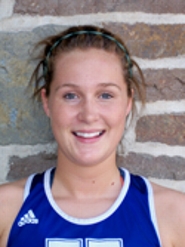 Abby King '11 finished first of 77 runners and led Hamilton College to the team title in its own short course invitational on Sept. 12.
King finished with a time of 15:16.3 on the 4,000-meter course. Following her in fourth place was Meredith FitzPatrick '11 with a 15:39.5 clocking. Tory Grieves '12 finished in fifth place in 15.49.5. Next to cross the finish line for the Continentals was Emily Potter '12, who took eighth with a time of 15:56.1. Maddy Gunter '11 rounded out the top five for Hamilton in 10th place in 16:02.6.
Rachel Cackett '13 took 15th place and posted a time of 16:20.7 in her first collegiate race. Kate Hails '10 ended up in 17th place finishing in 16:28.0.
Hamilton College finished with a team total of 28 points. Vassar College took second place with 32 team points and Nazareth took third with 69 team points. Five teams competed in the meet.
The Continentals compete in the SUNY Oneonta Airfield Invitational on Friday, Sept. 18, at 5 p.m.