Women's cross country wins team title at Oneonta
---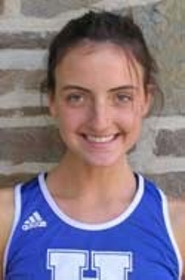 Meredith FitzPatrick '11 finished third and helped lead Hamilton College to the SUNY Oneonta Airfield Invitational team title at Oneonta's Fortin Park on Sept. 19.
Hamilton topped the nine-team field with 56 points. SUNY Plattsburgh was a close second with 63 and Division II Mansfield University took third place with 68 points.
FitzPatrick, who competed in the NCAA Division III championship in 2007, finished 20 seconds behind the race winner with a time of 17:12 on the 4,500-meter course. Gen Flanders '09 also ended up in the top 10 as she was eighth in 17:43.
Emily Potter '12 was 13th out of 95 runners with a time of 17:52. Perry Ryan '12 finished 15th in 17:54. Abby King '11 rounded out the Continentals' top five in 17th place with a time of 17:59.
Hamilton competes in St. Lawrence University's Hoffmann Invitational on Saturday, Sept. 27, at noon.