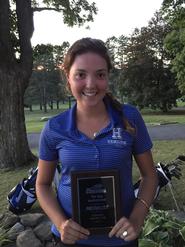 Electra Washburn '19 led Hamilton College to first place at the 2015 SUNY Cobleskill Fighting Tigers Jug Classic at Cobleskill Golf & Country Club on Friday afternoon.

Results

The Continentals finished with a four-person team score of 347 as Hamilton players swept the top four spots on the leaderboard. Keuka College was runner-up, SUNY Canton landed in third place and Cobleskill and SUNY Delhi did not finish. The team title is the second in the short history of the program, which just started its fourth season.

Washburn was the individual medalist in just her second collegiate tournament with an 83 on the par 71 layout that measured 5,861 yards. Liz Morris '16 was next with an 86, followed by Libbie Warner '19 and her 18-hole score of 88. Katie Veasey '17 rounded out the Continentals' top four with a 90.

The women are off until Sept. 26 and 27 when Hamilton hosts its own invitational at Yahnundasis Golf Club in New Hartford.