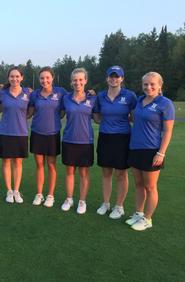 Electra Washburn '19 helped lead Hamilton College to fifth place out of eight schools at the 2015 St. Lawrence University Women's Golf Invitational, which was held at Oliver D. Appleton Golf Course on Sept. 5 and 6.

Results

Washburn started her collegiate career with a bang as she fired a program-record 75 on Saturday on the par-72 layout that measured 5,848 yards. She added an 84 on Sunday and tied for eighth place out of 50 golfers at 159 for the 36-hole tournament.

Libbie Warner '19 posted solid rounds of 82 and 89 and tied for 22nd place at 171 in her first tournament at Hamilton. Katie Veasey '17 carded an 85 on the first day and wound up at 175 for the weekend. Liz Morris '16 followed close behind Veasey at 178 for the tournament. Morris shot an 88 in the first round. Molly Pivirotto '18 ended up at 187, which shattered her previous best for 36 holes.

The Continentals set another program record on Saturday with a four-person team score of 330. They slipped a bit to 353 on Sunday for a total of 683 for the tournament, which included three nationally ranked programs. New York University captured the tournament title with a team score of 594, which was 56 shots clear of the rest of the field.

Hamilton travels to the SUNY Cobleskill Fighting Tigers Invitational at Cobleskill Golf Club on Friday, Sept. 11.