Women's hockey rallies at Colby for third straight win
---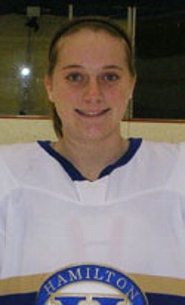 Hamilton College scored three times in the third period to complete a comeback from a three-goal deficit and earned a 4-3 victory against Colby College in New England Small College Athletic Conference women's ice hockey game at Colby's Alfond Rink on Dec. 4.

The Continentals (3-4-0 overall, 3-3 NESCAC) have won three straight games on the road after starting the season with four consecutive losses. Colby (2-4-0, 1-4) lost for the second time in as many days.

The Mules seemed to have everything going their way when first-year forward Annie Papadellis scored just 2:38 into the second period to give Colby a 3-0 lead. Hamilton made it 3-1 at 5:36 of the second when Kristen Pallen '12 had her first goal of the season and third of her career.

Hamilton cut its deficit to 3-2 at 4:25 of the third period when Gigi Fraser '14 scored her first collegiate goal. Just 62 seconds later, the Continentals tied the score on an unassisted goal by Nikki Haskins '14. The goal was Haskins' first at Hamilton.

Abby Runyon '13, who had an assist on Hamilton's first goal, netted the game-winner with 10:36 left. The Continentals had a 14-3 shot advantage in the third period, and 30-24 for the game.

Becca Hazlett '13 had 21 saves for Hamilton, while Brianne Wheeler finished with 26 stops for the Mules.