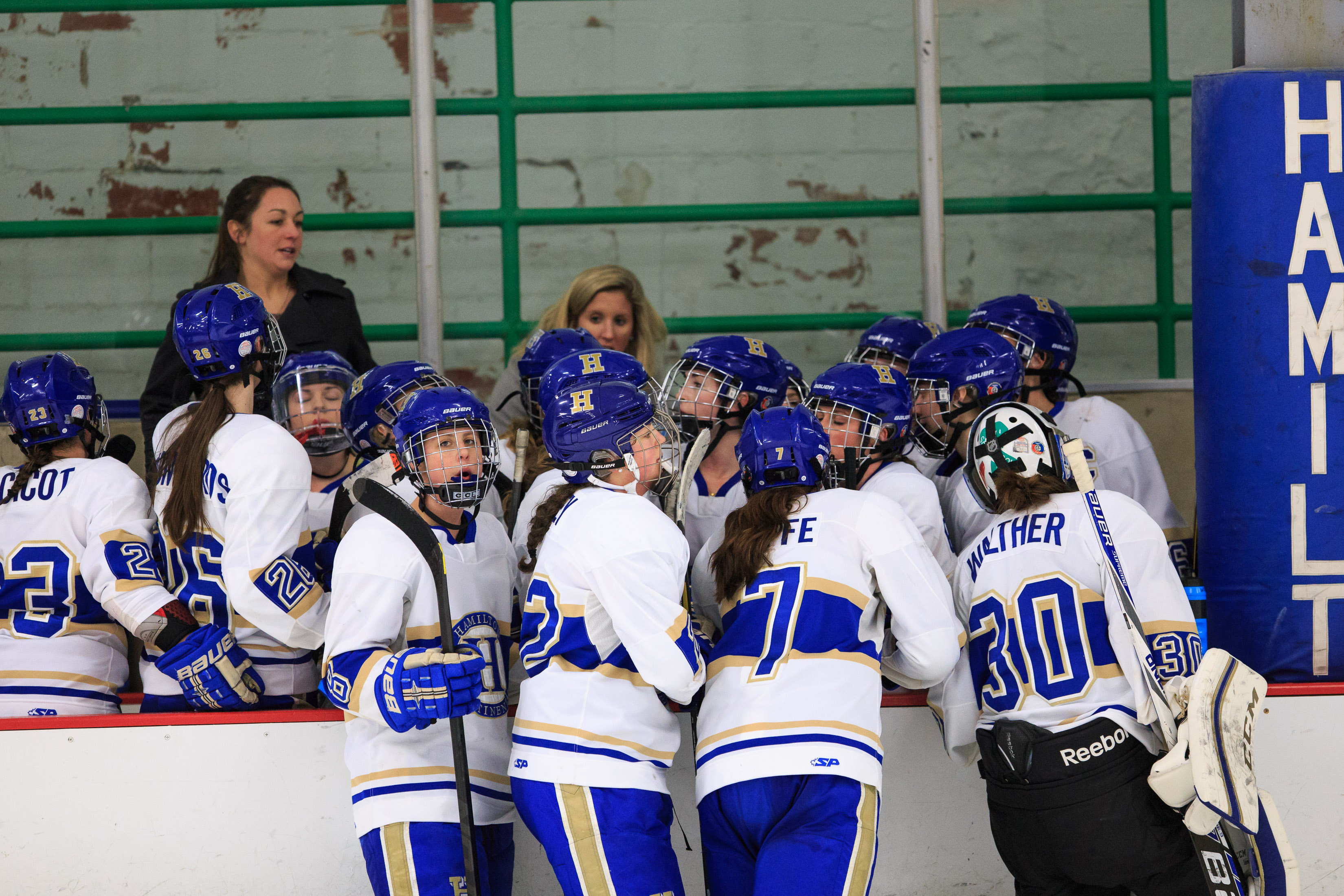 The Hamilton College women's hockey team snapped a four-game losing streak with a 2-1 win over visiting Wesleyan University on Saturday afternoon in the conclusion of a NESCAC weekend series. The Continentals (8-9-3, 2-8-2 NESCAC) outshot the Cardinals 43-19.

Box score

Steph DiPietro '18 and Katie Parkman '17 each had a hand in both Hamilton goals. Following a scoreless first period, DiPietro put the Continentals up 1-0 at 4:48 of the second. She scored her fourth goal of the season, putting a backhander past Wesleyan's Corinne Rivard '16 after a scramble in front of the net. Rivard finished with 41 saves.

The Continentals pushed their lead to two goals at the 7:26 mark of the third on a goal by Sara Taffe '17. Parkman assisted on both goals, giving her a team-leading 10 this winter. DiPietro picked up her second assist of the year on Taffe's game winner.

The Cardinals (8-10-1, 3-8-1) skated with the advantage for 1:23 of the final 2:12 in the third period, thanks to a Hamilton penalty and an extra attacker who replaced Rivard with 132 seconds left. They capitalized on a six-on-four opportunity with a power-play goal by Abigail Rutt '17 with 1:23 remaining. Rutt scored her first goal of the season off a pass from Laura Wasnick '15 after Hamilton goaltender Sam Walther '18 had saved a shot by Jordan Schildhaus '15.

Wesleyan had one shot at the tying goal in the last minute but Walther made her 18th and final save to deny Lottie Barton '16 with 34 seconds to go.

The win raised Hamilton's series record against the Cardinals to 20-12-1. Wesleyan had won five of the previous six meetings.

The Continentals make their final road trip of the season next weekend, playing a pair of NESCAC games at Bowdoin College starting with a 7 p.m. contest on Friday, Feb. 13. The Cardinals open a series at Colby College on Friday night.