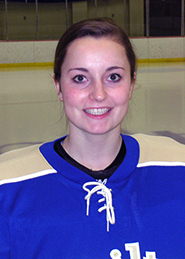 Amherst College's Yuna Evans '17 posted her second shutout in as many days and the Jeffs edged the Hamilton College Continentals 1-0 in a NESCAC game at Hamilton's Russell Sage Rink on Nov. 16.

Box Score

Evans made 18 saves, including nine in the first period. She made 14 stops in Amherst's 2-0 victory against the Continentals at home on Saturday afternoon. The Jeffs have won five in a row against Hamilton and lead the all-time series, 21-14-2.

Erin Martin '16 scored on the power play for the game's lone goal. Lynndy Smith '17 and Tori Salmon '15 were credited with the assists.

Sarah Schuchardt '15 tied a career high with 31 saves for the Continentals (0-2, 0-2 NESCAC). Schuchardt turned away all 14 shots she faced in the second period.

Hamilton had two power-play opportunities in the first period and Amherst received a pair in the second period, but neither team capitalized as the teams were locked in a scoreless tie after two.

The Jeffs (2-0, 2-0) broke the ice in the third period. The Continentals were whistled for tripping at 6:31 and Martin scored 1:40 later. Smith's shot from above the right faceoff circle was redirected in front by Martin and past Schuchardt.

Hamilton had one more power-play chance midway through the period and the Continentals pulled Schuchardt for the extra skater with 1:32 left but didn't avoid getting shut out for the second day in a row. Amherst enjoyed a 32-18 shot advantage.

Hamilton travels to Connecticut College for another NESCAC game on Friday, Nov. 21. The Jeffs host Wesleyan University in conference action on Friday.