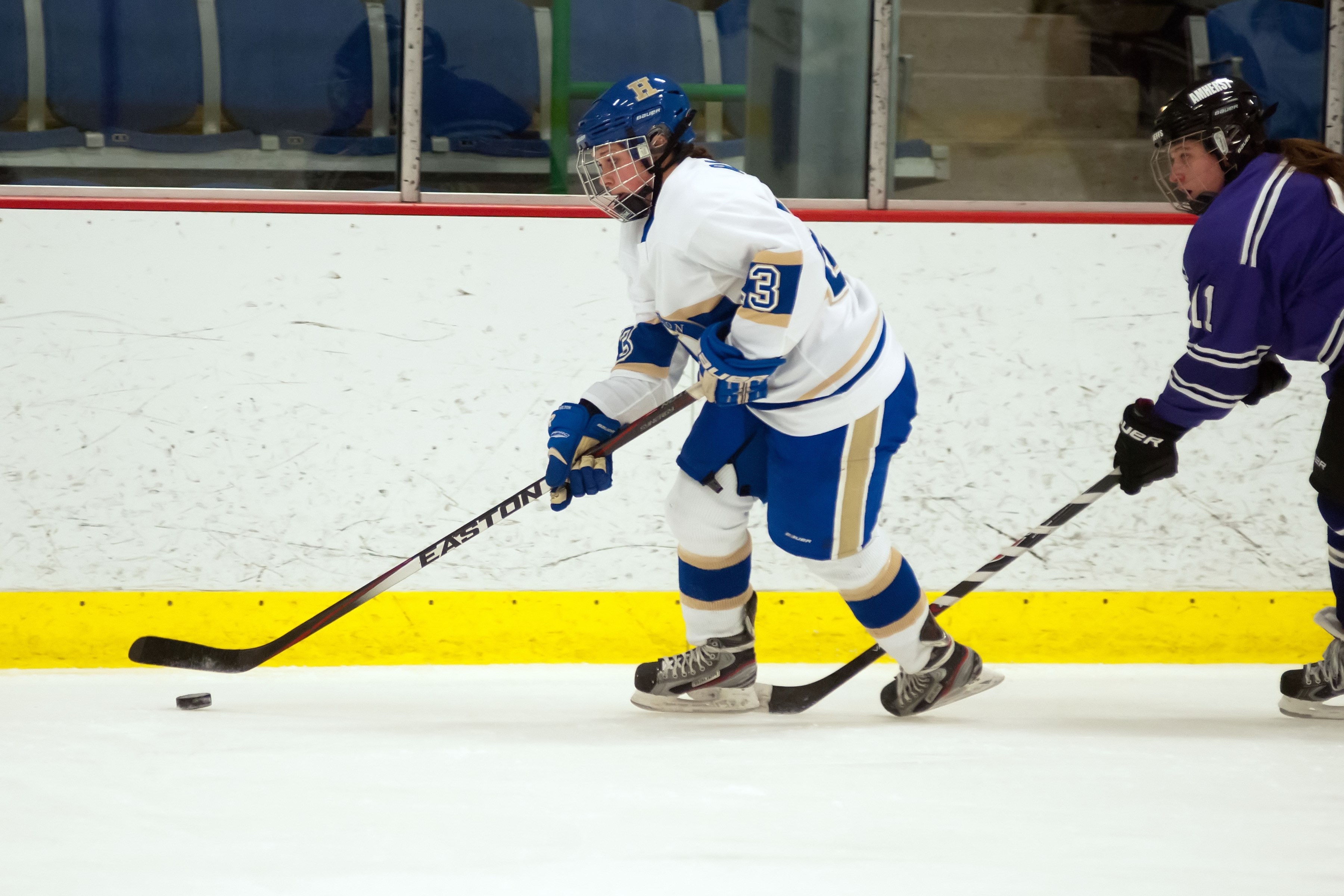 The Hamilton College women's hockey team rallied for a 2-1 win over Plymouth State Saturday to wrap up play at the DoubleTree Ice Hockey Classic. Both the Continentals and Sacred Heart went 2-0 at the weekend tournament; the Pioneers were declared the winner of the event (which featured pre-determined match-ups) based on goal differential.

Box Score

Alycia Racicot '16 scored the game-winning goal early in the third period as the Continentals (6-3-1 overall) improved to 5-1-1 in their last seven games.

The Panthers (6-8-0) scored a short-handed goal early in the second period and nearly maintained their lead for the rest of the period, but Hannah Bartlett '16 tied the score with 1:40 left before the second intermission.

Racicot's game winner early in the third was just the second goal of her career. She took a pass from Ianthe Lekometros '16 just inside the blue line and sent a shot from between the hash marks that rang off the right post and into the net. Lekometros ' assist was her first point of the season.

Bartlett, who was joined by Olivia Hawes '19 on the all-tournament team, knotted the score with her team-leading eighth goal of the season. She came in alone on Plymouth State goaltender Mariah Trupp and slid a shot from the low slot into the right side of the net. Bartlett's scored in four straight games.

Trupp made 32 saves for the Panthers, who were outshot 34-14.

Hamilton's Sam Walther '18 made 13 saves. The only goal she allowed was on a two-on-one rush while Plymouth State was killing a penalty. Haley Branovan took a pass from Emily Auby and fired a shot that Walther saved but when the rebound bounced to the right side of the net, Auby controlled the puck and scored into an open net.

The Continentals play another non-conference game Tuesday, hosting SUNY Potsdam at 3 p.m. in Russell Sage Rink.