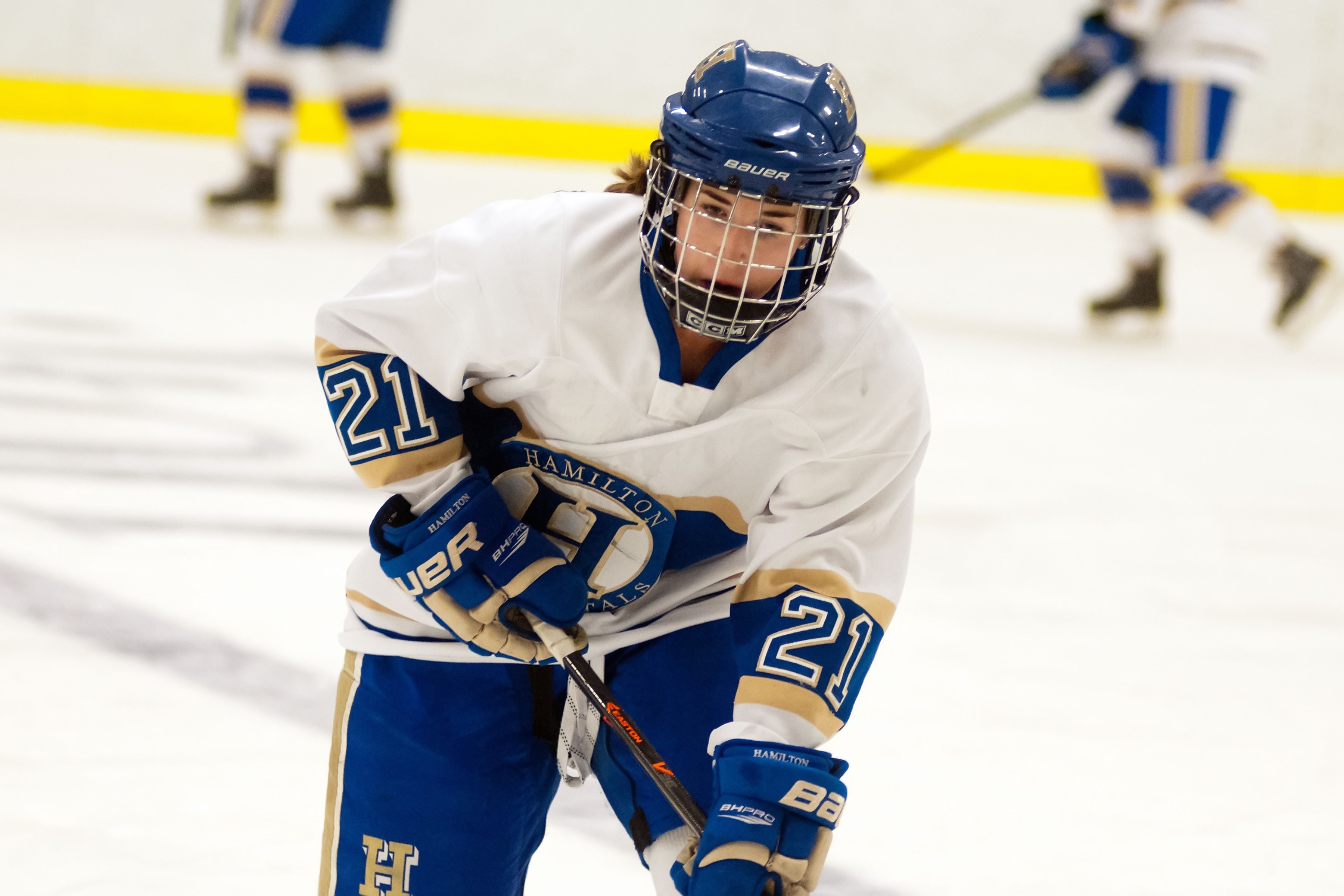 The Hamilton College women's hockey team scored three third-period goals to hand SUNY Cortland a 5-2 non-conference defeat Tuesday night at Hamilton's Russell Sage Rink.

Box score

The Continentals (6-5-3 overall) have lost just once in their past nine games. The Red Dragons (2-11-1) are now 0-20-0 all-time against Hamilton.

Maddie Carras '17 and Naomi Woolfenden '16 scored third-period goals and Woolfenden contributed one assist. Woolfenden scored the game-winning goal 1:38 into the third, dinging a slap shot off the post and past Cortland goaltender Kelly Farinella '17 to put the hosts up 3-1. Carras gave the Continentals an insurance goal with 5:36 left after the Red Dragons had pulled to within a goal. Hannah Bartlett '16 closed out the scoring 43 seconds later.

The Red Dragons, who were outshot 32-15, got on the board first on a goal by Niamh O'Connor '16. O'Connor notched her second goal of the season 3:31 into the opening period, scoring into an open net from nearly 20 feet out after Hamilton goaltender Sam Walther '18 came out of the crease to play a breakaway. Walther pushed the puck off the stick of a Red Dragon skater but O'Connor recovered and converted the goal.

Hamilton scored a goal in each of the first two periods to take a 2-1 lead with Jade Alvillar '18 and Megan Ahern '17 both scoring their second goals of the season. Alvillar scored a power-play goal off assists from Casey Brown '16 and Woolfenden at 9:45 of the first to tie the score and Ahern put the Continentals ahead to stay 2:11 before the end of the second. Katie Parkman '17, Hamilton's leading scorer with 14 points, assisted on Ahern's goal.

Laura Drew '16 scored her second goal of the year at 11:04 of the third period to pull Cortland within a goal, knocking home a rebound after O'Connor's initial shot was saved.

Walther finished with 13 saves to earn her first collegiate win. Farinella stopped 27 shots.

The Continentals, who were playing at home for the first time in 48 days, host a weekend NESCAC series with Trinity College on Friday, Jan. 23, at 7 p.m. and Saturday at 3 p.m. The Red Dragons host Neumann for a weekend series.