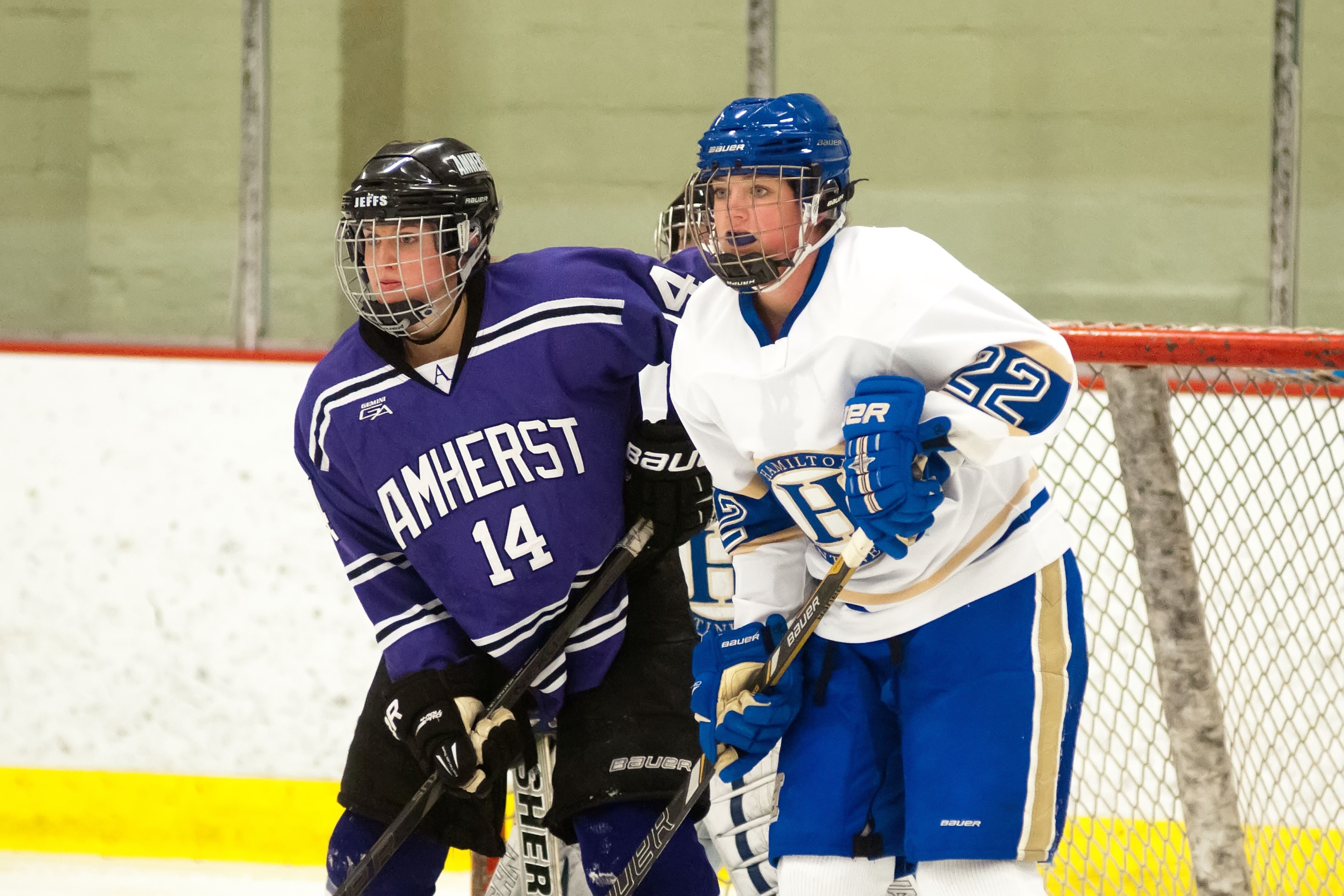 The Hamilton College women's hockey team blanked Trinity College 2-0 on Friday night at Hamilton's Russell Sage Rink in the opener of a weekend NESCAC series.

Box Score

The Continentals, who won despite being outshot 29-13, beat the Bantams for the first time in 18 games.

Hannah Bartlett '16 and Mairead Carey '18 scored Hamilton's goals and Sam Walther '18 recorded her second shutout in the past eight days as the Continentals (7-5-3, 1-4-2 NESCAC) improved to 7-1-2 in their last 10 games. Trinity (9-4-1, 2-4-1) is one of three teams in the "others receiving votes" category of the latest Division III Top 10 coaches poll.

Bartlett opened the scoring with her seventh goal of the season, putting the Continentals on the board with 7:21 left in the opening period. Megan Ahern '17 sent a long pass from the right boards to Bartlett at the far post for Ahern's sixth assist. Katie Parkman '17 – Hamilton's leading scorer with 15 points – picked up her seventh assist of the year on the play.

Carey capitalized on a Bantam turnover in the Trinity end to collect an insurance goal with 4:55 left in the second period. She stole the puck from a Bantam skater who lost her stick on the play and beat Sydney Belinskas '18 inside the near post for her fourth goal of the winter.

Walther, who recorded the program's first overtime shutout last Friday at Williams College, made 29 saves to improve to 2-3-3 on the year. She was at her best in a 10-second span seven minutes into the third, making three saves including two on Caroline Howell '18. After stopping Howell's initial shot, Walther denied Hannah Oganeku '18 on a wrap-around attempt and turned away Howell's point-blank shot with a sprawling save.

Belinskas finished with 11 saves for the Bantams, who had a 15-0-2 record against Hamilton since 2007. The series is now tied, 16-16-2. The Continentals posted their fourth shutout against Trinity and their first since 2004.

The teams return to Sage Rink to conclude their weekend series on Saturday, Jan. 24, at 3 p.m.