Women's hockey edged by Trinity
---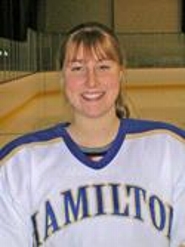 Trinity College broke a 1-1 tie with two goals in the third period and went on to a 3-1 win against Hamilton College in a New England Small College Athletic Conference game at Trinity's Williams Rink on Nov. 27.

Becky Cairns '11 grabbed a 1-0 lead for the Continentals (0-4-0 overall, 0-3 NESCAC) with her first goal this season 9:11 into the first period. Nikki Haskins '14 and Riley Smith '12 were credited with assists. Smith has one assist in each of the last three games, and leads the team with three points.

With less than two minutes remaining in the period, the Bantams' Kim Weiss knotted the game at 1-1. After a scoreless second period, Trinity (2-0-0, 1-0) snapped the tie with a goal at 8:33 of the third during a power play.

Hamilton received a power-play opportunity with more than eight minutes remaining, but the Bantams scored a short-handed goal with 7:55 left to account for the final margin. Becca Hazlett '13 made 19 stops for the Continentals, while Kristen Maxwell had 19 saves for the Bantams. The Bantams held a slight 22-20 advantage in shots.

The Continentals travel to Wesleyan University for another NESCAC game on Sunday, Nov. 28, at 3 p.m.