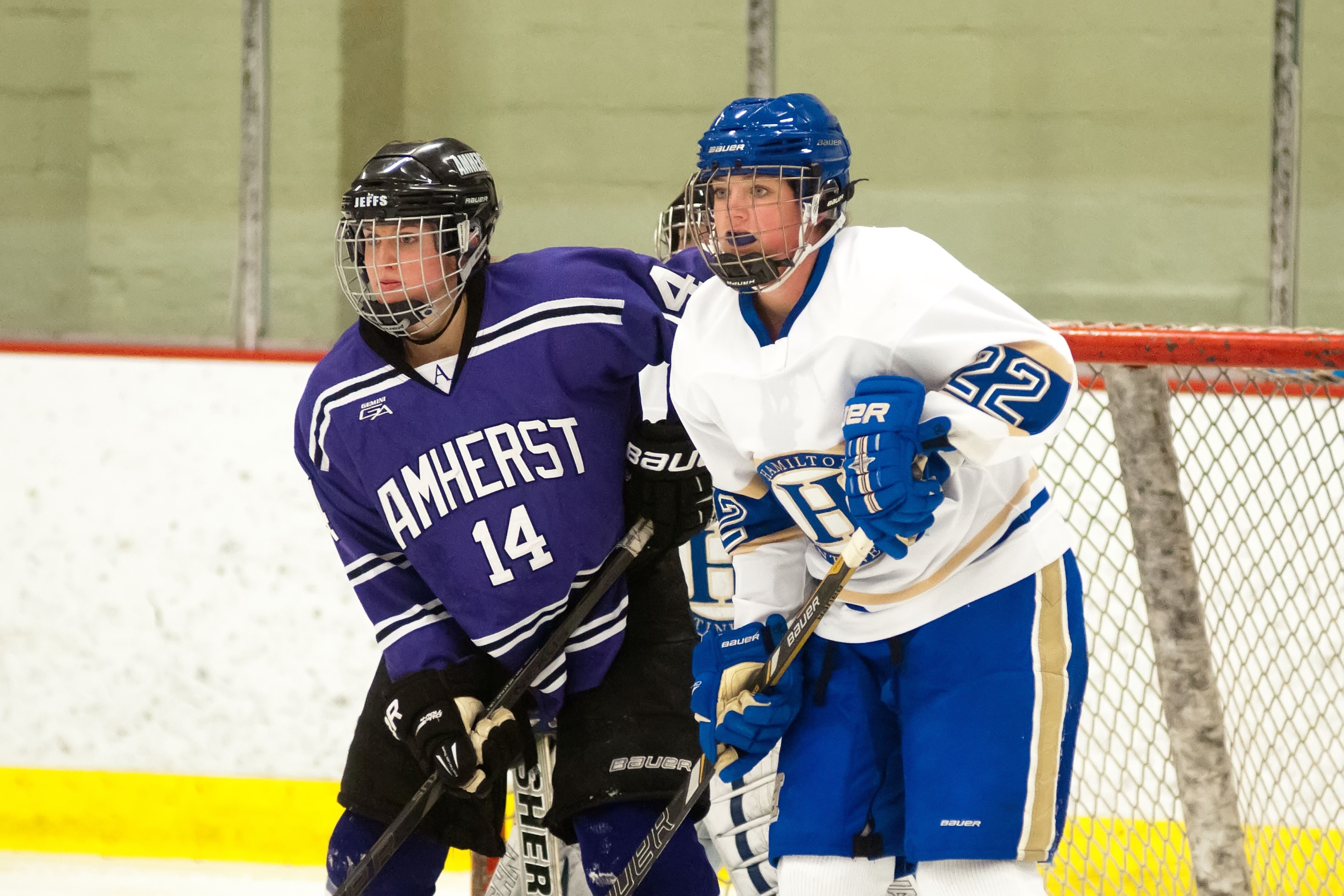 Returning to the ice for the first time in a month, the Hamilton College women's hockey team won its second straight game, rallying from two goals down to beat host SUNY Cortland 3-2 in overtime on Tuesday.

Box score

Mairead Carey '18 scored twice for the Continentals, notching the game winner 2:28 into the extra period. The win was Hamilton's 19th in as many meetings with the Red Dragons.

Hamilton (2-4-2 overall) recorded the program's biggest come-from-behind win since erasing a 4-2 third-period deficit in a 5-4 overtime win against Colby College on Feb. 17, 2013. The Red Dragons scored on their first two shots to take a 2-0 lead less than 14 minutes into the first period.

Carey, who recorded her first collegiate multi-goal performance, gave the Continentals their first overtime victory in nearly two years, netting the game-winning goal on a shot from the right point that found the back of the net through a screen in front. She started Hamilton's rally at 4:38 in the third period with her second goal of the year. She took a pass from Megan Fitzgerald '16 and sent a shot from the right circle into the open right side of the net. Nine minutes later the Continentals tied the game when Hannah Bartlett '16 knocked in a loose puck for her team-best fourth goal of the season.

Cortland goaltender Kelly Farinella '17 finished with 34 saves and helped the Red Dragons kill a 5-on-3 Hamilton power play over the last 1:09 of regulation and the first 51 seconds of overtime.

Sarah Schuchardt '15 evened her record at 2-2, stopping Cortland's last 13 shots to hold the Red Dragons scoreless for the final 48:43.

Sydney Carlucci '17 and Makenzie Wright '17 netted goals for Cortland (2-7-2) with Gwen Paul '15 and Sarah Hamilton '17 each recording an assist.

The Continentals travel to South Burlington, Vt., this weekend for the Doubletree Classic, hosted by Saint Michael's College. Hamilton faces the host Purple Knights on Friday, Jan. 9, at 7 p.m. and takes on Plymouth State University on Saturday at 1 p.m. Cortland is idle until hosting SUNY Canton next Tuesday.